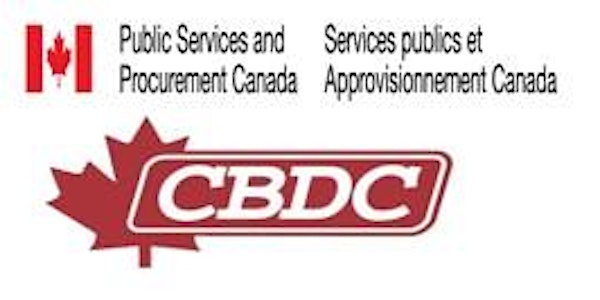 Selling your Products to the Government of Canada Procurement Series
Procurement Assistance Canada (PAC) in partnership with the NS Association of CBDC - a series of Webinars "Selling to Government"
About this event
Morning Series : 09:30 am to 10:30 am
January 27th Doing Business with the Government of Canada
Find out whether the Government of Canada buys your goods or service
Understand the contracting process
Register in supplier databases
Build networks and promote your business
Search for opportunities
Take advantage of the procurement information on Buyandsell.gc.ca
Understand the security clearance process
Bid on opportunities
Key Business Audience
Any existing business currently not selling or new to selling to the Government of Canada
Indigenous / Social Enterprises / Women / Persons with Disabilities / Gender and Sexual Diversity/ Green / Multicultural / Minority Language and Black owned business
We hope you can make it for the entire duration but feel free to join or leave at your convenience and stay for any length of time that fits your schedule, we understand you have a lot to juggle!
Join us for future morning sessions on
February 3rd Supplying Professional Services
Unable to make the morning series ...then sign up for the Evening Series
Join us on: from 6:00pm to 7:30pm on
February 9th Myth busting Federal Procurement
February 16th Doing Business with the Government of Canada
February 23rd Supplying Professional Services
NOTE: These sessions will be held in English, and login details will be sent by email a day prior to the event.
For additional information on this series or any other questions please contact Procurement Assistance Canada (PAC), Atlantic Region, at 902-426-5677 or SACAtlantique-PACAtlantic@tpsgc-pwgsc.gc.ca at least 3 business days prior to the event.
Personal Information Collection Statement
Provision of the information is on a voluntary basis. We will use the information for the purpose of responding to your questions/comments, and to improve our Internet presence. The information will be held in Public Services and Procurement Canada's Personal Information Bank number PPU 115 Internet and PPE 830 Intranet Services, and it will be retained according to the retention and disposal schedule established for this bank.
Your personal information is protected under the provisions of the Privacy Act. Under the Act, you have the right to request access to and correction of your personal information, if erroneous or incomplete. If you wish to avail yourself of this right or require clarification about this Statement, contact our Privacy Coordinator at AIPRP.ATIP@tpsgc-pwgsc.gc.ca. For more information on privacy issues and the Privacy Act consult the Office of the Privacy Commissioner of Canada.
For more information about your rights, visit Info Source. This is a Government of Canada publication available in major libraries, at government information offices and from constituency offices of federal Members of Parliament.
The Internet is a public forum and electronic information can be intercepted. This is not a secure website. Please do not disclose unnecessary confidential information about yourself or your accounts with Public Services and Procurement Canada.