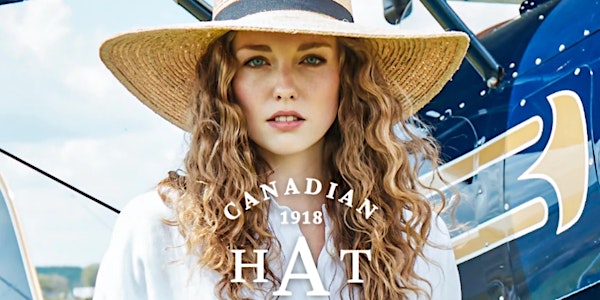 Semaine de la mode - Harricana | Canadian Hat 1918
La Semaine Mode de Montréal avec Harricana I Canadian Hat 1918!
Date and time
Wed, Sep 21, 2022 4:00 PM - 8:00 PM EDT
Location
ATELIER-BOUTIQUE HARRICANA |CANADIAN HAT 1918 3697 Rue Wellington Montréal, QC H4G 1V1 Canada
About this event
La Semaine Mode s'invite sur la Wellington !
L'Atelier-Boutique Harricana I Canadian Hat 1918 vous propose une soirée complète de découvertes mode écologique et locale avec au programme : Démonstration de surcyclage dans notre atelier centenaire, un cocktail, une présentation de nos collections, des montres solaires Solios et une soirée de magasinage VIP avec Code Promo pour la SMM!
Toute la semaine venez découvrir dans notre Atelier-Boutique le POP UP de la nouvelle marque de vêtements d'hiver pour enfants conçue à Montréal, JOUA du 19 au 25 septembre.
Petits et grands pourront s'équiper pour l'hiver et découvrir nos marques éthiques et écologiques! A propos de Solios :
Solios se joint aux forces d'Harricana afin de venir exposer leurs montres solaires dans leur merveilleux atelier-boutique. Nouveaux arrivants sur la rue Wellington, Solios vous exposera l'ensemble de leurs collections de montres fonctionnant à l'énergie solaire, faites à partir de matériaux et processus de fabrication écoresponsables, sans aucun compromis sur l'élégance. Des montres variant de 29 à 40mm, avec bracelets interchangeables en acier inoxydable ou en cuir végane sans polyuréthane, venez dès maintenant essayer votre futur cadeau de Noël, tout en découvrant comment Solios est devenue la première et toujours la seule compagnie de montres au monde à avoir la prestigieuse certification B Corp. Vous avez de vieilles montres usagées ou brisées qui trainent dans un tiroir? Apportez-les le 21 septembre pour participer au programme de recyclage de montres de Solios en plus d'obtenir un rabais de 50$ sur votre prochain achat.
Restez à l'affut des concours 😉
Montreal Fashion Week is on the Wellington!
The Boutique-Workshop Harricana I Canadian Hat 1918 welcomes you for a private ecofashion evening with: Upcycling demonstration in our workshop, cocktail, launching or our collections and VIP shopping with a coupon for the Fashion Week !
During all week, you will also discover JOUA, new Montreal's brand for winter clothing for kids in a special POP UP from the 19th to September 25th.
Come and find the winter gear for all the family and discover our ethical and ecological brands!
Keep an eye open, contests are coming 😉