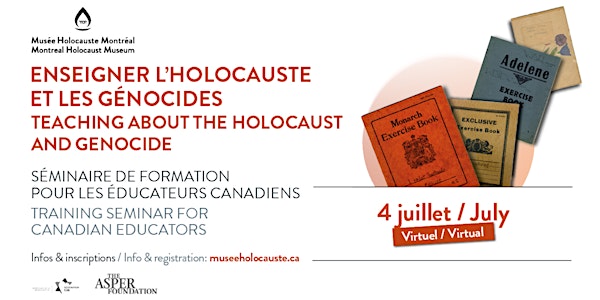 Séminaire des enseignants virtuel | Virtual Teachers' Seminar
Demi-journée de formation sur l'enseignement de l'Holocauste / Half-day training seminar on teaching about the Holocaust
About this event
Le séminaire est rendu possible par la Fondation Asper / The seminar is made possible by the Asper Foundation
Vous êtes éducateurs.trices ? Vous souhaitez approfondir vos connaissances sur l'Holocauste et, plus largement les génocides? Vous vous demandez comment aborder ces sujets sensibles en classe? Vous êtes à la recherche de ressources pédagogiques?
Inscrivez-vous à notre séminaire de formation! Vous aurez l'occasion d'assister à des conférences, des panels de discussion, des ateliers et bien plus encore pour être mieux outillé.e pour enseigner l'Holocauste et d'autres génocides.
Are you a teacher? Do you want to deepen your knowledge of the Holocaust and, more broadly, genocide? Wondering how to tackle these sensitive subjects in class? Are you looking for educational resources?
Register for our training seminar. You will have the opportunity to attend conferences, discussion panels, workshops, and more to become better equipped to teach about the Holocaust and other genocides.
Pour tout savoir sur la programmation du séminaire, cliquez ici.
To find out more about the seminar's program, click here.
Questions? Contact:
education@museeholocauste.ca
514.345.2605 x3410