Sencha – More interesting than ever (Webinar with Oscar Brekell, Nihoncha I...
Event Information
Refund Policy
Refunds up to 7 days before event
Description
In the last couple of years, we have seen an increased popularity and interest in Matcha in the Western market. When it comes to Sencha however, despite the fact that the market offers more variation and teas of higher quality than ever before, it has remained in the shadows of its stone ground cousin. This is indeed unfortunate because Sencha is truly unique both in terms of taste and flavour, and also in terms of brewing methods and how it is served. In this
In this webinar Oscar Brekell will aim to highlight these aspects while also focusing on the following points to show that Japanese tea has never been more interesting:

The multitude of cultivars: Anyone who possesses knowledge about Japanese tea to some degree may have heard about Yabukita, by far the widest spread tea plant cultivar in Japan, covering some 80% of the cultivated area. However, apart from Yabukita, there are over hundred other cultivars available and the taste and flavor changes dramatically in some cases. Here we will look into the strength and the limits of Yabukita, why it became so popular, how it shaped the Japanese tea market and modern tea culture, and finally look into the many interesting alternatives that are being cultivated a present.
The appearance of single origin Sencha: Until about 15 years ago, with only a few exceptions, all Japanese teas offered at tea shops (or elsewhere) were blended. Only recently have we seen an increase in single cultivar and single origin teas and although the market is still comparably small, it might change the way tea drinkers look upon Japanese tea and in the long run even the tea industry itself. Here Oskar will first explain why there were not any single origin teas around before and also introduce the latest trends on the Japanese tea market.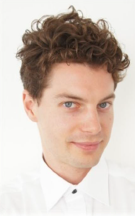 About the Speaker: Oscar Brekell
Oscar Brekell is currently working for the Shizuoka Prefectural Japanese Tea Industry Research Center. He is the 10th graduate of the Japanese Language and Culture Studies Course of the International Student Center. After hard study of Japanese tea, he became the first Swedish certified "Japanese Tea Instructor" in Japan. Mr. Brekell has already held a number of Japanese tea seminars both at home and abroad and made many TV appearances and on radio programs. Mr. Brekell is very passionate about promoting Japanese tea.
Date and Time
Refund Policy
Refunds up to 7 days before event