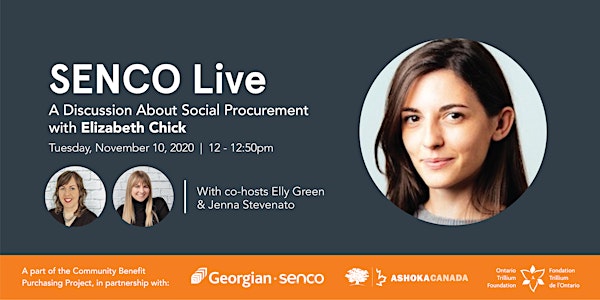 SENCO Live: A Discussion About Social Procurement with Elizabeth Chick
Join the SENCO team and social purchasing expert, Liz Chick of Buy Social Canada for a live Q&A about Social Procurement.
About this event
What the heck is 'Community Benefit Purchasing' and how can Social Enterprises and institutions come together to create a positive impact?
Join SENCO co-hosts Jenna Stevenato and Elly Green for a virtual series, featuring special guests who are excelling in social procurement work. We're bringing in expert knowledge to answer all your questions and bring community benefit purchasing, or social procurement, to life in Central Ontario.
Social procurement (or community benefit purchasing) is more than a buzzword - it's an innovative force for local, national and global change. It leverages existing purchasing practices to create additional economic, social and environmental value. It's a win-win...-win-win-win!
Come join us!
This session is a part of the Community Benefit Purchasing Project in partnership with Ashoka Canada, funded by Ontario Trillium Foundation.
Stay tuned for our Winter series that will dive into successful case studies by experts in the field who will share their social procurement strategies and tools.
Followed by additional regional opportunities this Spring, including readiness sessions, a networking event, and coaching for social enterprise / diverse suppliers along with purchasers in Central Ontario.
About Liz Chick:
Elizabeth Chick is the Executive Director of Buy Social Canada, an initiative that promotes social purchasing – helping organizations across Canada to "purchase with a purpose" – and social enterprise certification. Buy Social Canada brings socially driven purchasers and social enterprise suppliers together and promotes business relationships that generate social benefits to communities across the country. Elizabeth studied Law at the University of Cambridge and University of Utrecht, and has worked in Legal Research and with the Legal Services Society of BC. She is a Social Innovation Alumni of Year Here and has worked with a variety of non-profits, social enterprises and the public sector in the UK and Canada.
Organizer of SENCO Live: A Discussion About Social Procurement with Elizabeth Chick
The Social Enterprise Network of Central Ontario (senco) is an initiative of Georgian College's Centre for Changemaking and Social Innovation. 
senco inspires, connects and equips those looking to engage in social enterprise to face cultural, environmental and social challenges. We work with social enterprises, budding social entrepreneurs, non-profit and for-profit organizations, and community leaders to support innovative economic approaches to strengthen our communities. Our goal is to be the bridge to new knowledge, resources and supporting business practices to achieve financial growth and sustainability through social enterprise.
senco's region, Central Ontario, aligns with the "footprint" of Georgian's seven campuses in the counties of Simcoe, Muskoka, Grey and Dufferin.