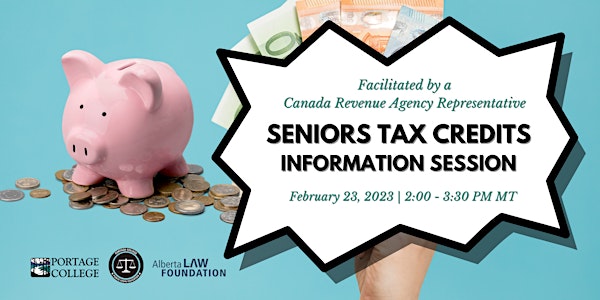 Seniors Income Tax Benefits and Credits
Seniors, find out about benefit and credit payments you could get from the Canada Revenue Agency this tax season!
By Portage College Public Legal Education
Date and time
Thu, Feb 23, 2023 1:00 PM - 2:30 PM PST
About this event
A representative from the Canada Revenue Agency will share information on Seniors Benefits and Credits
Common types of income and credits for seniors,
Pension income splitting,
Registered Retirement Savings Plan,
OAS repayment,
Payment methods,
Authorizing a representative,
Climate Action Incentive,
Avoiding scams, and
Q&A time.
This session will be held online . Details on how to access the session will be emailed 1 -2 days prior. Please ensure you check the email you registered with.
Contact shelley.jackson@portagecollege.ca should you need help accessing the session.
Sign up for our newsletter for notifications of upcoming free webinars.
About the organizer
Educating Albertans on the law and legal system since 2001!​  since 2001!​