Description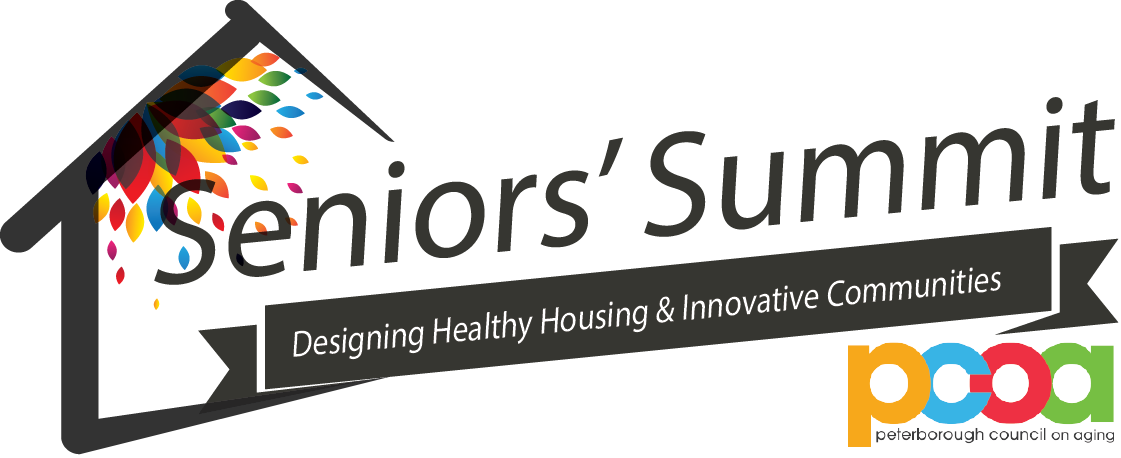 Sponsored by

The Peterborough Council on Aging is excited to be dedicating the 2016 Seniors' Summit to the issue of housing and what an aging population needs to live well in their home. We will welcome over 200 people to Trent University for this event to explore different housing models, design features, local successes, future housing opportunities and complete communities through the lens of seniors needs.
Agenda
8:30am-9:00am: Registration
9:00am-9:30am: Greetings and Introductions
9:30am-10:45am: Keynote Speaker: Dr. James Dunn, McMaster University
10:45am-11:00am: Break
11:00am-12:30pm: Workshops (see details below)
12:30pm-1:15pm: Lunch and Information Fair
1:15pm-1:45pm: Speaker: Arlene Etchen, Canada Mortgage and Housing Corporation
1:45pm-2:30pm: Information Fair and Break
2:30pm-3:30pm: Speaker: Jess Mitchell, Ontario College of Art and Design University
3:30pm-3:45pm: Closing Remarks
Workshops
Designing Homes for an Aging Population

Aging in Place: Idea for the Future

Options for Supported Living

Local Housing - What is working in Peterborough
Speaker Biographies
Keynote Speaker James Dunn

Professor and Chair in the Department of Health, Aging & Society and the Director of Environments, both at McMaster University in Hamilton. His research program focuses on urban housing and neighbourhoods, and how economic and social policies can influence health. He is concerned with how urban infrastructure is failing the growing population of urban adults who don't drive, and how housing and transit can help seniors remain mobile and independent.
Guest Speaker Arlene Etchen

Arlene Etchen, is a Knowledge Transfer Consultant in Ontario with Canada Mortgage and Housing Corporation. She has been working in urban planning and energy sectors for more than 15 years focused on engaging with professionals in the housing industry, academics and provincial/ municipal governments to ensure access to relevant housing information from CMHC. Her present focus includes integrated accessible and adaptable design, solutions for aging in place and designing for housing affordability.
Guest Speaker Jess Mitchell

Jess Mitchell is a Senior Manger in Research and Design with OCAD University in Toronto. Jess is presenting the discussion One-size-fits-one - How inclusive design can make the world work for us. "Too often we consider diversity to be a problem to be solved - and we solve it with one-offs, one-size-fits-all, and policy-driven solutions that often work for no one in the attempt to work for everyone. We can do better! In our complex, interconnected, and technology-heavy world we have the abiltiy and the tools to look at diversity as an asset, a driver of innovation, and an opportunity to make better solutions.
Facilitators:

Allan Seabrooke, Chief Administrative Officer for the City of Peterborough

Dr. Rosana Salvaterra, Medical Officer fo Health, Peterborough Public Health
Supported in partnership with: