Description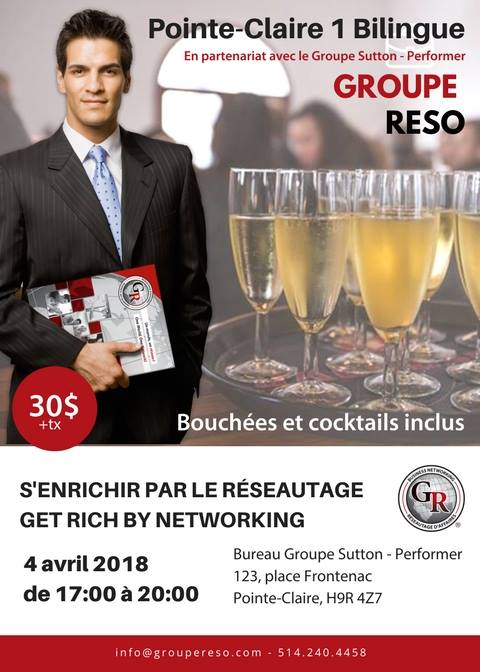 «Ce n'est pas ce que vous savez qui compte, mais bien qui vous connaissez.»
Le Groupe Reso - Pointe Claire 1 vous invite à venir les rencontrer et créer des liens entre professionnels de divers milieux. Un des avantages du Groupe Reso - Réseautage d'affaires est d'avoir l'opportunité d'occuper un siège exclusif dans votre domaine.
Venez découvrir comment GR - Pointe Claire 1 peut vous aider à propulser votre entreprise à un niveau supérieur.
Au menu:
Cocktail
Bouchées
Conférence: "La puissance de votre réseau"
Rencontres d'affaires motivantes et inspirantes
---
"It's not what you know that matters, but who you know."
Groupe Reso - Pointe Claire 1 invites you to come and meet with them and create business relationships with professionals from different fields. One of the advantages of Reso Group - Business Networking is to have the opportunity to occupy an exclusive seat in your field.
Come discover how GR - Pointe Claire 1 can help you take your business to the next level.
On the menu:
Cocktail

Cocktail bites

Conference: "The power of your Network"

Motivating and inspiring business chats