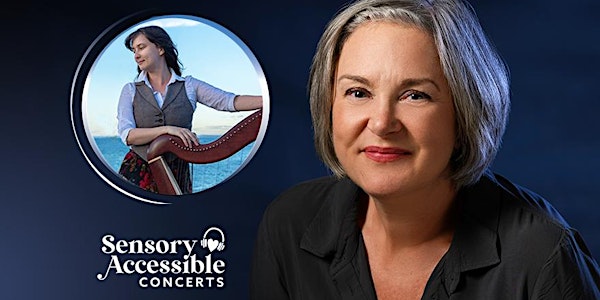 Sensory-Accessible Concert - Harpist Ellen Gibling & Pianist Jennifer King
Sensory-Accessible Concerts: Designed to be welcoming and accessible for autistic, neurodivergent, and intellectually disabled individuals
Date and time
Starts on Sun, Feb 5, 2023 2:00 PM AST
Location
Paul O'Regan Hall Halifax Central Library 5440 Spring Garden Road Halifax, NS B3J 1E9 Canada
About this event
ARTISTS: Ellen Gibling, harp; Jennifer King, piano
The February performance in our Sensory-Accessible Concerts series, presented in partnership with the Halifax Central Library, brings our host, curator, and pianist Jennifer King together with harpist Ellen Gibling for an afternoon of enchanting music featuring various harps and piano. Come hear Parisian composer Marcel Tournier's "Vers la source dans le bois," a tranquil and peaceful work inspired by nature, the expressive second movement of Giovanni Battista Pescetti's Sonata in C minor, Sergei Prokofiev's lively and sparkling Prelude in C major, op.12 no.7, as well as Spanish composer Joaquin Turina's Theme and Variations, op.100 for harp and piano. The first movement of French Canadian Caroline Lizotte's Suite Galactique "Exosphere" will transport you to the outer reaches of space with its cosmic sounds, and you will be treated to a traditional Irish slow air called "Port na bPúcaí" as well as a lively Irish jig set sure to get your toes tapping. Sensory-Accessible Concerts are designed to be welcoming, friendly, and accessible for autistic, neurodivergent, and intellectually disabled community members of all ages and their families. They are open to the public free of charge on select Sunday afternoons at the Halifax Central Library's Paul O'Regan Hall. Seating is limited, and registration is required.
Ellen Gibling is a harpist based in K'jipuktuk/Halifax. She plays classical, Irish traditional, and free improvised music, and performs most regularly with New Hermitage and The Bombadils. She teaches harp at the Maritime Conservatory of Performing Arts, and recently released a solo album entitled "The Bend in the Light." Energetic and insightful, Jennifer King is a versatile, award-winning pianist who is equally at home as a soloist or a collaborator on the concert stage. With a career spanning almost three decades, she has established herself as a sought-after performer and recording artist in the region. She performs with many respected soloists and multidisciplinary artists throughout the Maritimes.
About the organizer
For more than thirty years Cecilia Concerts has been presenting diverse world-class chamber music experiences in welcoming, bilingual, accessible, and intimate settings that connect our communities, educate and inspire audiences and artists, and enhance the rich heritage and culture of K'jipuktuk/Halifax. Cecilia Concerts acknowledges that we are honoured to live, work, and present performances on the lands, surrounded by the waterways, of Mi'kma'ki – the unceded and unsurrendered ancestral territory of the Mi'kmaq. We acknowledge the Mi'kmaq as the past, present, and future caretakers of these lands and waterways. Our offices are located in K'jipuktuk, which means Great Harbour.
Charitable Registration Number: 894903012RR0001