Sales Have Ended
Ticket sales have ended
Thank you for your registration. I look forward to sharing lots of valuable information with you!
Sales Have Ended
Ticket sales have ended
Thank you for your registration. I look forward to sharing lots of valuable information with you!
In this webinar series you will learn about everything you'll need to consider when preparing to discuss your separation agreement.
About this event
Overwhelmed? Not sure where to start? If you have decided to separate or if you're thinking about separating then this webinar series is for you.
Whether you're considering mediation, using lawyers or taking a "do it yourself" approach for your separation, these webinars will cover everything you'll need to take into consideration as you prepare to create your separation agreement.
Legal advice will not be provided but legal information, based on the BC Family Law Act, will be included.
There are 4 live webinars in this series:
Wednesdays 7:30-8:30pm starting May 19, 2021
Included in this series:
4 live webinars with time for Q & A
Recordings of all 4 webinars
Downloadable resources and worksheets
A 30 minute phone consult with Lori to answer questions specific to your situation
Session 1 - Getting Started (Wednesday May 19, 7:30-8:30pm)
Mindset
Setting goals for your future
Other supports
How to manage advice from others
What happens after your agreement is completed
Session 2 - Your Parenting Plan (Wednesday May 26, 7:30-8:30pm)
What does "best interest of the child" mean?
Parenting time scheduling
Parent responsibilities
Communication
Session 3 - Child & Spousal Support (Wednesday June 2, 7:30-8:30pm)
How is child support calculated?
What does child support cover?
What are special and extraordinary expenses?
How is spousal support calculated?
Session 4 - Financial Division (Wednesday June 9, 7:30-8:30pm)
Assets & Debts
What to do with the family home?
What are excluded assets?
Pensions
Please note: These webinars are for informational purposes only. The information is not to be considered legal advice.
https://www.lorifrankmediation.com/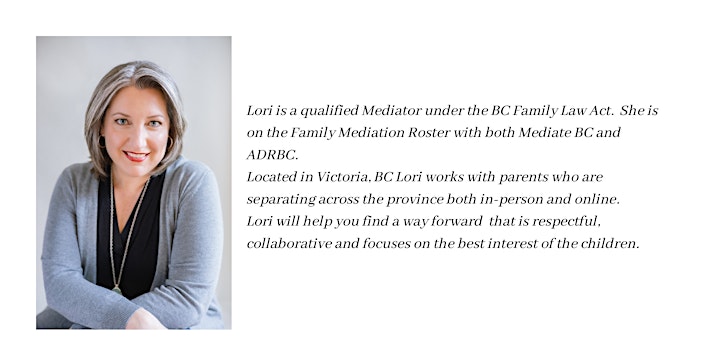 Organizer of Separation Agreement Webinar Series
Lori is a qualified Family Dispute Resolution Professional under the BC Family Law Act.  She holds the certification of Qualified Mediator through the ADR Institute of Canada.
Lori has been working with families in various roles for over 25 years.  She has had the privilege of being invited to the table in family homes, community organizations, indigenous communities, schools and government offices to support families during times of conflict.  She honours the diversity, complexity and uniqueness of each situation in her work.  Lori specializes in working with parents who are separating and creating a parenting plan for a child with special needs.
Lori truly believes it is possible to provide modern, cost-effective, timely and collaborative approaches to separation that help parents build a foundation for the next chapter of their life as co-parents.   
She won't tell you it will be easy, but she'll tell you it will be worth it.