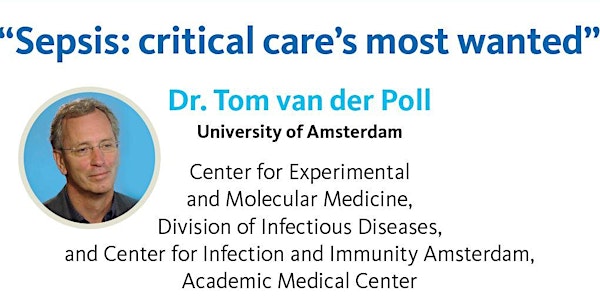 Sepsis: critical care's most wanted
Event Information
Location
Allan Waters Family Auditorium, Keenan Research Centre
209 Victoria Street
Toronto, ON M5B 1T8
Canada
Description
Dr. Tom van der Poll heads a large research group in Amsterdam, with two major areas of research focus: sepsis (and its major cause pneumonia) and tuberculosis. Both of his areas of research study the innate immune response, particularly focusing on pattern recognition receptors and on the regulation of the procoagulant response. His research seeks to combine observational studies in patients with preclinical and fundamental studies in healthy volunteers and experimental animals to further gain instight on spesis and its causes.
A live broadcast of the talk will be available today: click here. Please note, streaming will not begin until a few minutes before the lecture.
*For optimal webcast experience, we recommend you use Google Chrome, Firefox or Safari.
Date and time
Location
Allan Waters Family Auditorium, Keenan Research Centre
209 Victoria Street
Toronto, ON M5B 1T8
Canada