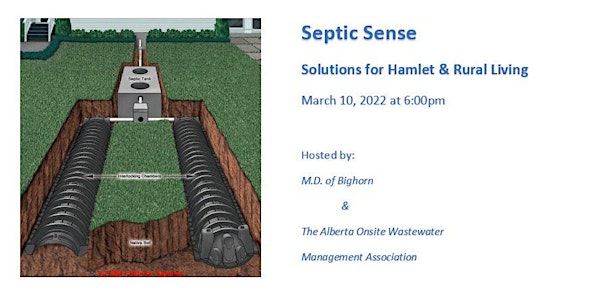 Septic Sense: Solutions for Hamlet & Rural Living Virtual Workshop
Understanding and taking care of your septic system
When and where
Date and time
Thu, Mar 10, 2022 5:00 PM - 7:00 PM PST
About this event
Did you know the average person puts 340 liters of sewage through a private sewage system (septic system) every day? For a family of four living in a two-bedroom house, that amounts to 1,360 liters per day and just under half a million liters per year!
Rural property owners are responsible for ensuring their systems operate properly and safely. If you have a septic system on your rural property, you will benefit from attending this workshop. Presenters will teach you how to understand, assess and properly manage your septic system, enabling you to protect your investment in your property and the valuable natural assets associated with your land.
Learn what you can do to properly manage and maintain your septic system. Attend the virtual Septic Sense workshop hosted and presented by the M.D. of Bighorn, with technical expertise provided by the Alberta Onsite Wastewater Management Association (AOWMA) and materials developed by Land Stewardship Centre (LSC).
During the workshop we will cover:
• What a septic system is and how it works
• Regulations
• Design and installation
• Appropriate use of your septic system
• Maintaining your septic system
• Troubleshooting