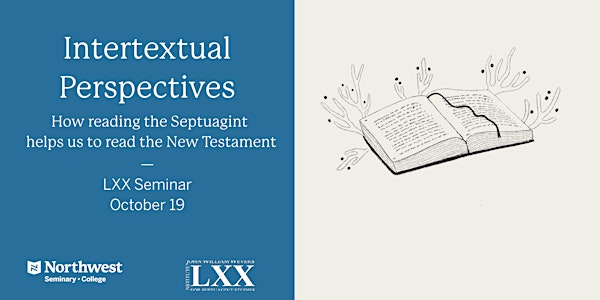 Septuagint Series - How Reading the LXX Helps us to Read the New Testament
A Septuagint seminar with Dr. Larry Perkins, presented by Northwest Seminary & College and John William Wevers Institute.
When and where
Location
Northwest Seminary - College, Dr. Vern Middleton Classroom 22500 University Drive Langley Township, BC V2Y 1Y1 Canada
About this event
Presentation Topic
For the most part the New Testament (NT) authors cite the Greek translation (Septuagint) of the Hebrew Old Testament (OT) as their source, when quoting or alluding to the Jewish scriptures. The influence of the Septuagint upon the NT does not end with these quotations, but extends to the very language that these writers employed in presenting the gospel and guiding their audiences. In this workshop we examine closely several quotations of OT texts in NT writings in order to trace the import of this influence for understanding the message these NT writers desired to communicate. In the course of this discussion, we consider questions such as: what access did Jesus or the first Christians have to biblical scrolls of the Jewish scriptures? Did they access Hebrew or Greek copies and does it make any difference? How would ordinary believers access these materials so that when the NT writers quote or allude to these OT texts, they would recognize them and understand them? What 'Bible' did the first Christians have and how did they understand it? The conclusion we reach is that the more we engage the text of the Septuagint, the more insight we have into the message being communicated by NT writers.
Presenter: Dr. Larry Perkins
A graduate of the University of Toronto Ph.D. program in Septuagint Studies (1980), the University of British Columbia (B.A.(Honours), M.Ed.), and the Oxford University (B.A., M.A.(Oxon)), Larry Perkins has published various Septuagint-related articles. His dissertation, completed under the direction of Prof. John Wevers, considered the translation technique of the Syro-Hexapla of Deuteronomy, seeking to provide greater precision in the use of this source for establishing the Old Greek text of Deuteronomy.
Currently he is Professor Emeritus of Biblical Studies at ACTS Seminaries. His teaching occurs primarily in Greek exegesis with a focus on Old Testament and New Testament issues and Septuagint Studies. He is completing forty-five years of teaching with Northwest Seminary & College. He is also a Fellow in the John William Wevers Institute of Septuagint Studies, a leading Canadian research network related to Septuagint Studies.
You can also attend this avent via Zoom.