Join us and Dr. Kim TallBear for an engaging and educational Valentine's Day fundraiser to support SERC's vital programs and services.
About this Event
Join us on Valentine's Day, Sunday February 14th from 7:00 – 8:30 pm for a night of storytelling and learning from our esteemed guest and Keynote Speaker, Dr. Kim TallBear, who will take us on a journey through her life and research in the areas of sexuality and relationships.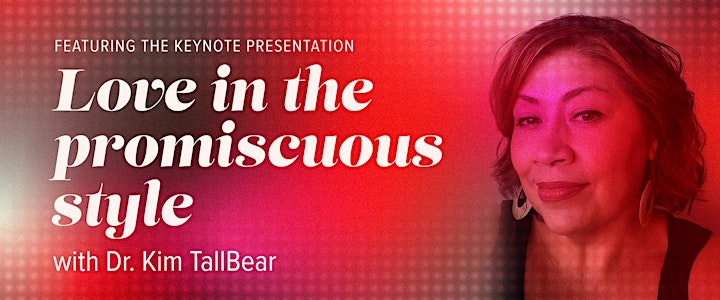 Keynote Speaker and Topic:  
Love in the "Promiscuous Style" 
Dr. Kim TallBear, Associate Professor, Faculty of Native Studies, University of Alberta 
Many people associate the word 'promiscuous' negatively with casual and careless sexual relationships. In fact, the Oxford English Dictionary defines it as "Done or applied with no regard for method, order—as random, indiscriminate, unsystematic." Why does our worldview tell us that promiscuity is always so lacking in purpose? And why do we use this word to shame and blame people for their desires and attractions? In this talk, I offer a new definition of the word "promiscuous" to challenge what we've been taught about commitment, fidelity, and the scarcity of love.
Join me on Valentine's Day – on your own or with your sweetie(s) - and treat yourself to candlelight, snacks, and a bit of wine perhaps. Together we'll consider how partial connections with many beings – human lovers, friends, family, and other-than-human kin – can offer us an abundant collection of loving relations. I will offer stories and lessons about how to love and make kin promiscuously without focusing on romance or diminishing the romantic and/or sexual relationships that people desire or already have.
Love can be enlarged, not compromised or lost, when we consider what a multiplicity of loves might look like. Let's explore that idea together.
About Kim:  
Kim TallBear is Associate Professor, Faculty of Native Studies, University of Alberta and Canada Research Chair in Indigenous Peoples, Technoscience & Environment. She writes about decolonizing sexuality and is a regular commentator in US, Canadian, and UK media outlets on issues related to Indigenous peoples, science, and technology. A citizen of the Sisseton-Wahpeton Oyate, she blogs about nonmonogamy at www.criticalpolyamorist.com.

All Manitobans deserve the right to access accurate, non-judgmental information about sexuality and reproductive health. Check out this video to see why...

The "Red Velvet Ticket" Experience
RED VELVET TICKET ORDERS need to be in by Midnight Feb 11th for delivery within Winnipeg on Saturday Feb 13 between 12 pm and 4 pm (Contactless drop off). You can still purchase the ticket, however your gift bag will just show up the week after the event.
Make your night extra special by purchasing the "Red Velvet Ticket" for you and your household. Each Red Velvet Ticket holder will receive a special gift box delivered prior to the event with the following items:
A custom Coal and Canary votive candle to set the mood
A tasty sweet treat to enjoy alone or with your loved ones from one of our local favorites Chocolate Zen Bakery
A Limited Edition #kbscript print exclusive to SERC - by Kal Barteski!
A handful of coupons and vouchers from local MB businesses to support them through the recovery from COVID-19
A charitable receipt for the donation portion of the ticket
AND - Each Red Velvet Ticket purchased automatically sends the same ticket and gift box to a family that SERC supports through our community health education programs so they can enjoy the Red Velvet Experience too!
Grand Door Prize from Barrier Bay Resort
All attendees will be entered to win a 2 night stay at the beautiful, romantic Barrier Bay adults only couples resort located in the Whiteshell Provincial Park. Barrier Bay is the ideal location to rest, relax, and re-connect with yourself, a friend, or a loved one! On site amenities include a heated outdoor pool, two docks with lake access, and much much more!
Program:  
7:00 – 7:10 Welcome and Opening 
7:10 – 7:20 SERC Presentation: Stories of perseverance from the field  
7:20 – 8:05 Keynote Presentation with Dr. Kim TallBear 
8:05 – 8:15 Q&A Moderated by Jared Star 
8:15 – 8:30 Closing Remarks and Red Velvet / Door Prize Draw! 
Tips on how to make the event as special as can be!  
Sit back, relax, and let us do the entertaining for your special Valentine's Day evening. Whether you're alone or with your sweetie(s), make it date night by pairing this event with your favorite beverage – wine, hot cocoa or tea, and if you can, prepare or order a nice snack to enjoy before or while you watch the show.
Venue & Accessibility:  
This virtual event will be held using Zoom Webinars along with ASL interpretation for deaf/hard of hearing folks. No download is required to access the webinar. All attendees will receive a Zoom Webinar link three hours before the event (4:00 PM on February 14th) - OR - you can access the event through your Eventbrite confirmation.
Date and Time
Location
Refund Policy