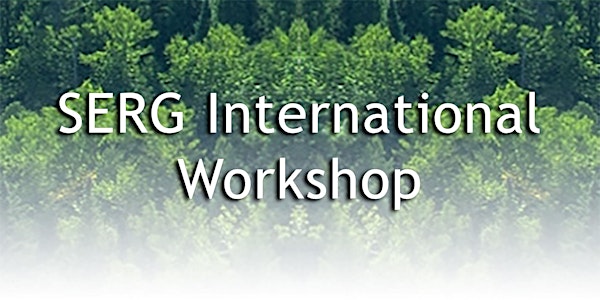 SERG International Workshop
A partnership in forest pest management research.
Date and time
Mon, Feb 6, 2023 7:00 PM - Thu, Feb 9, 2023 12:00 PM PST
Location
Hotel Grand Pacific 463 Belleville Street Victoria, BC V8V 1X3 Canada
Refund Policy
Contact the organizer to request a refund.
Eventbrite's fee is nonrefundable.
About this event
The SERG-I Workshop is held annually, usually in early February. Presentations from the principal investigators of all current SERG-I research projects will be delivered along with other presentations on topics of interest to the SERG-I membership.
Registration closes January 23, 2023.
Workshop Schedule
Monday, Feb. 6, 7pm – 10pm: SERG International Social/Reception
Tuesday, Feb. 7, 8am – 5pm: Workshop presentations
Wednesday, Feb. 8, 8am – 5pm: Workshop presentations
Wednesday, Feb. 8, 6:30pm – 9:30pm: SERG-I Banquet
Thursday, Feb. 9, 8am – 12 noon: Workshop presentations
Note: the annual SERG-I Steering Committee meeting will immediately follow the Workshop on the afternoon/evening of Feb 9. Steering Committee members, please make your hotel reservations accordingly.
Lodging and Meeting Location
Hotel Grand Pacific | 463 Belleville Street, Victoria, BC
Individuals will make their own reservations by contacting the reservation department.
Toll Free 1-800-663-7550 | Direct (250) 386-0450
E-mail reserve@hotelgrandpacific.com
In order to qualify for the group rate of $139/night + tax, it is imperative that individuals indicate the Group Name: "SERG - INTERNATIONAL"
Book before: January 6, 2023
Explore the hotel: https://www.hotelgrandpacific.com
SERG-I is an association of forest management, regulatory and research agencies, and industry product & service suppliers, interested in forest pest management. The primary aim of SERG-I is to improve application technology and pest management methods associated with the use of pest control products in the context of integrated forest pest management. SERG-I facilitates efficient use of resources for collaborative research to meet the needs and priorities of pest managers.
SERG-I provides a means for the members to work cooperatively on research projects through the sharing of expertise, financial resources, in-kind resources, staff, and the results to achieve common goals in the areas of spray efficacy and pest management methods.
General Areas of Research that are coordinated by SERG-I:
1. Forest Pest Management Products
Product efficacy - including conventionally applied products as well as the development of alternative products such as viruses, nematodes, pheromones and biological herbicides, etc.
2. Improvement of Application Technology and Techniques
Application technology - including aerial and ground-based application techniques which provide improvements in environmental and efficiency goals.
3. Environmental Impact and Benefit to Forest Pest Management
Fate of applied products in terms of deposit, drift, impact and behaviour in the environment including impacts on biodiversity and ecological processes.
4. Developing Forest Pest Management Strategies
Develop working strategies for the management of forest pests.
5. Technology and Information Transfer
Transferring results of SERG-I supported research to forest managers through annual workshops, the SERG-I web site and stakeholder meetings.