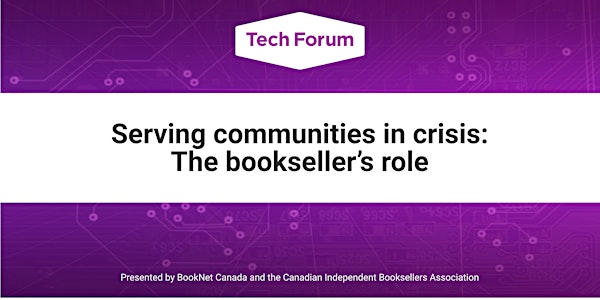 Serving communities in crisis: The bookseller's role
Independent bookstores take centre stage in this essential panel discussion
About this event
Independent bookstores play a crucial role in supporting their communities and never have communities needed more support than over the past year. COVID brought job losses, children home from school, and a general increase in isolation and anxiety. Faced with unprecedented closures, bookstores still found ways to maintain connections with their patrons through virtual events, home delivery, curated lists, and personalized guidance. In this event, you'll hear how four bookstores stayed connected in order to support their community and sell books.
This session is the launch of the Canadian Independent Booksellers Association's Discover & Develop webinar series that will help booksellers
define their 'new normal' — what their day-to-day operations look like now that the industry is finding its new rhythm;
better understand and improve their stores and operating procedures; and
consider how adaptations they made during the pandemic might continue post-COVID.
This session is presented in partnership with the Canadian Independent Booksellers Association.
Laura Ash is the Co-owner of Another Story Bookshop in the Roncesvalles neighbourhood in Toronto. Drawn to Another Story for its commitment to making a social impact through books, Laura is determined to ensure Sheila Koffman's legacy lives on and Another Story continues to bring alternative titles to new generations of readers.
Shelley Macbeth is the owner of Blue Heron Books in Uxbridge, Ontario. Two-time winner of The Libris Award (Best Bookstore in Canada) and named as a favourite by the legendary Stuart McLean, Blue Heron Books values its location in a 200-year-old building located in the busy and popular shopping area once frequented by former resident Lucy Maud Montgomery. The store is a hub for the community and a bastion of calm chaos where everyone is welcome.
Catherine Ellsmere, along with Nicki Breuer, co-founded Odin Books in Vancouver 30 years ago, in response to a need to find a way to normalize the discussion of mental health and why it is important. Over the years they have grown and adapted to support the changing community and the increasing need to continue the conversation about mental health. Catherine has a background in business and educational communications as well as extensive volunteer work. The bookstore is a great way to combine these skills to serve the community.
Tim Middleton is a Project Manager & Retailer Liaison at BookNet Canada. With a passion for startup culture, entrepreneurial enterprises, and disruptive technology ignited by a varied career in retail and consumer research, all things bookish remain his first and true love.
PRIVACY AND TICKET POLICY
BookNet's privacy policy can be found here: https://www.booknetcanada.ca/privacy-policy
BookNet reserves the right to cancel, without notice, any or all orders and tickets, in addition to prohibiting your ticket purchasing abilities.