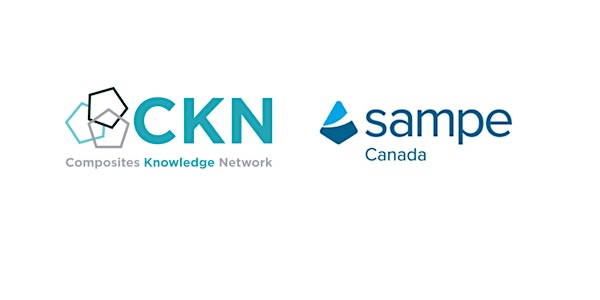 Session #6: Webinar Series on Composite Materials Engineering
Description
The Composites Knowledge Network (CKN) in partnership with SAMPE Canada is hosting a series of 12 one-hour long webinars on composite materials engineering.
Session 6: Manufacturing Processes: Prepreg Processing (July 22, 2020 @ 9:00 am PST)
Prepreg materials are composed of fiber and partially cured resin that is combined at a specific, tightly controlled ratio. It is the most common form of material used in aerospace. This session will go into more detail on prepreg materials and the processes used to manufacture parts with them.

---
Instructor: Casey Keulen, PhD (Instructor, Materials Engineering, University of British Columbia).
Registration and Inquiries: Please e-mail Suzana Topic: suzana@composites.ubc.ca.
Cost: This complimentary workshop is funded by the Composites Knowledge Network (www.compositeskn.org).
---
This webinar series was developed to bring the participants to an intermediate level of composite materials understanding. It is intended for junior to senior engineers that are looking for a solid background in the fundamentals of composites to help make both engineering and business decisions. After completing this series, the participant should have the skills to identity suitable applications of composites, select materials and processes, estimate composite mechanical properties, and identify appropriate testing procedures.
The topics will cover a wide range of aspects of polymer matrix composites from both a processing and analysis perspective. It will start with a general introduction to composite materials, then discussion of constituent materials like fiber and resin, before going into thermal management of manufacturing processes (curing a resin). With that knowledge established, various processing methods will be discussed, with a deeper look into prepreg processing and liquid composite moulding (ie. vacuum infusion, resin transfer moulding, etc.). After that, the focus will be on the mechanics of composites. What is happening on the lamina and laminate levels, and eventually failure of composites will be covered. The last two sessions will tie the processing sessions and mechanics sessions together with a discussion of testing.