An elegant afternoon tea that is offered to the guests of The Society for the Ethical Treatment of Kraken's Tea and Ladies Bazaar.
About this Event
Our High Society Afternoon Tea is a chance for the guests of the SETK Tea (Steampunk Convention) to enjoy a lovely hour of everything fancy, fancy sandwiches, fancy dress, and fancy settings.
This year we will be offering a live musician who will be playing during the serving of the Tea. We will announce their information closer to the event. The food service will be provided by Canad Inns Destination Centre Polo Park, so our menu will be a bit different this year. We are working with the wonderful chef at the venue to keep some of our old standbys and favorites.
Please refer to our website Subgenres.net for more information on the menu and the entertainment. We will have more details in the coming months.
We do not stipulate that you must purchase a general admission to the convention to enjoy the High Society Afternoon Tea. In fact, our High Tea is served in a room that is outside the convention space this year. If you wish to only enjoy an elegant tea, than you are welcome to purchase only a seat at the High Society Afternoon Tea.
There is a dress code. Steampunk costume is encouraged, but not a must. You do not need to wear a costume at all to attend the High Society Tea. We ask that you wear clothing that is suitable for an afternoon affair; such as a wedding or a fancy party. We will not allow shorts, jeans, t-shirts, tank tops, or other casual wear.
There is an age restriction for the Tea as well. For the enjoyment of all of our guests, we ask that the minimum age of a Tea guest to 16 years or older.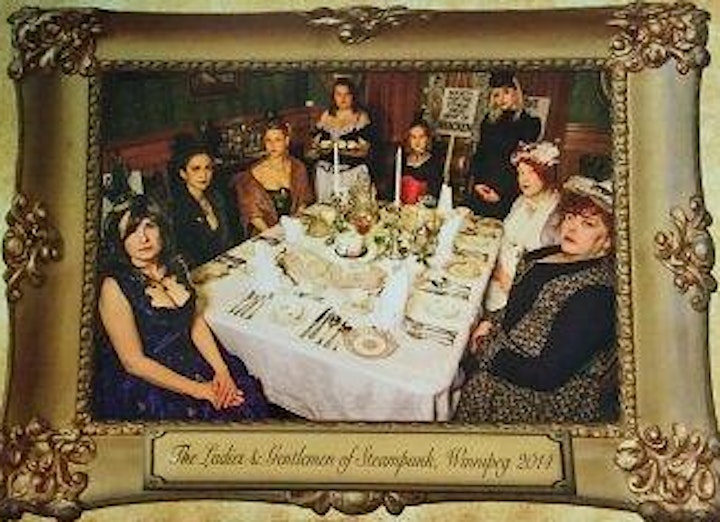 The very first High Society Tea held by the ladies auxiliary of the SETK. We took this photo at our very first photo shoot for the "Ladies and Gentlemen of Steampunk, Winnipeg 2014" calendar that was shot at the Dalnavert Museum in 2013. All the ladies shown in the photo are Steampunk enthusiasts in Winnipeg, Manitoba.