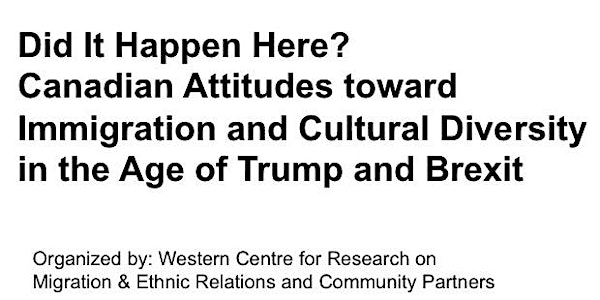 Seventh Annual Journeys of Migration
Did It Happen Here? Canadian Attitudes toward Immigration and Cultural Diversity in the Age of Trump and Brexit
When and where
Location
Western University 1151 Richmond St London, ON N6A 3K7 Canada
About this event
Did It Happen Here? Canadian Attitudes toward Immigration and Cultural Diversity in the Age of Trump and Brexit
Michael Adams, President of the Environics Institute, will discuss Canadians' social attitudes and their potential susceptibility to populist anti-immigrant, prejudicial sentiment. This presentation will include up-to-date findings on Canadians' attitudes toward immigrants and refugees in an international context; attitudes toward ethnic and religious diversity; the experiences of discrimination of ethnic and racial minorities; and definitions of Canadian identity. What drives variations in Canadians' attitudes over time? Are Canadian attitudes susceptible to international influences? And was the upcoming/recent federal election impacted by Canadians' changing views on immigration and cultural diversity? These questions and others will be considered over the course of this presentation.
Michael Adams is the president of the Environics group of research and communications consulting companies which he co-founded in 1970. In 2006 he founded and serves as president of the non-profit Environics Institute for Survey Research. The Environics Institute is a non-profit entity whose mission is to sponsor relevant and original public opinion and social research on issues of public policy and social change. Mr. Adams is also the author of seven books, and a regular contributor of published commentary on Canadian values and social trends. In 2016 he was awarded the Order of Canada for his work in helping Canadians understand who they are as a country and a people. His most recent book, published in 2017, is Could it Happen Here? Canada in the Age of Trump and Brexit.
The talk will be followed by a spoken word poetry performance by Fauzia Agbonhin, an award-winning writer and performer.
Event details:
Date: Thursday, 14 November 2019
Time: 4:00 PM to 5:30 PM (Refreshments at 3:30 PM and a Reception at 5:30 PM)
Location: UCC 290 - McKellar Room (the Theatre), Western University, London ON
Registration: Attendance is free but registration is required.
The Event is presented by the Western Centre for Research on Migration and Ethnic Relations, Western Network for Economic and Social Trends, the London and Middlesex Local Immigration Partnership, the London Cross Cultural Learner Centre, the South London Neighbourhood Resource Centre, Pillar Nonprofit Network, and Collège Boréal.