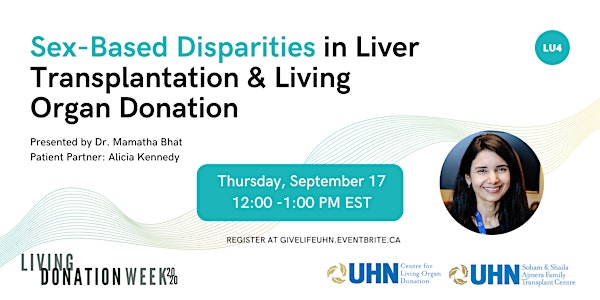 Sex-Based Disparities in Liver Transplantation & Living Donation (LU4)
Sex-Based Disparities in Liver Transplantation & Living Organ Donation
About this event
In both the U.S. and Canada, women are more likely to die waiting for a liver transplant compared to men. The majority of deceased donor livers come from adult males, meaning most available deceased donor livers are allocated to men. Smaller livers, from petite women or children, are typical allocated to pediatric liver transplant candidates. These long standing sex-based disparities in liver allocation and living donor liver transplantation are the subjects of our September 17 webinar presented by Dr. Mamatha Bhat. Dr. Bhat is the winner of the 2019 Polanyi Prize for her work in this field and will present alongside a patient partner who will share their experience.
Speakers
Mamatha Bhat, Transplant Hepatologist
Dr. Bhat is a transplant hepatologist and clinician-scientist within the Multi Organ Transplant Program and Division of Gastroenterology at UHN and University of Toronto. Although short-term survival post-liver transplant, long-term survival has not and is frequently compromised by cancer and cardiometabolic disease including fatty liver in the graft. The pathogenesis of these conditions is poorly understood, and Dr. Bhat's program is using a combination of Systems Biology and Machine learning tools to layers of data from patient samples, using in vitro and in vivo models for validation. She aims to understand the mechanistic basis of these complications in order to implement precisely designed preventive and therapeutic strategies in liver transplant recipients, helping them to achieve the full potential of their transplant.
Diane Peirce, Patient Partner, Living Liver Recipient
Alisa Kennedy, Patient Partner, Living Liver Donor
Submit Your Questions
We will be using Slido throughout Living Donation Week 2020. Slido allows you to submit questions in advance and in real time.
You can submit anonymously or with your name. Vote other questions up or down to determine the order in which they are asked.
Submit your questions here or go to slido.com and enter event code #LU4
About Living Donation Week
Please note, agenda subject to change.
Living Donation Week is an online event hosted by the Centre for Living Organ Donation from Sep 14-18, 2020 to raise awareness about living kidney and living liver donation, and celebrate living donors, recipients and everyone who wants to be a part their future.
For more information about Living Donation Week 2020 click here.
Other Sessions You Might Be Interested In
Live Donor Kidney Transplantation
Live Donor Liver Transplantation
Research & Innovation
Lifestyle
Celebration
For more information about Living Donation Week click here.