Sexual Psychology: Psychosocial Interventions and Behavioural Health
Sexual Psychology: Psychosocial Interventions and Behavioural Health
Sat, 12 Nov 2016, 9:00 AM – Sun, 13 Nov 2016, 5:00 PM MST
Event Information
Location

Calgary, AB

Canada
Description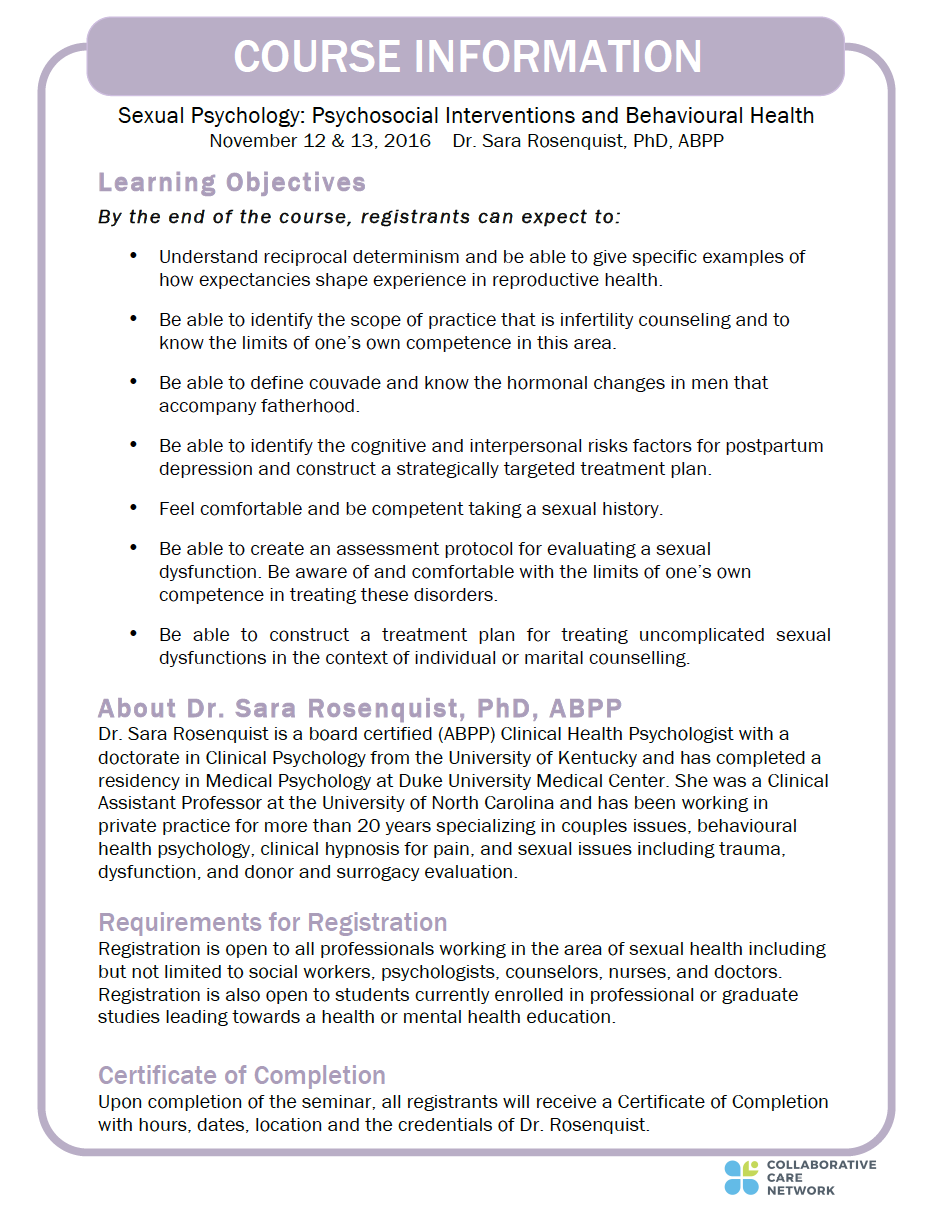 In partnership with Collaborative Care Network, Dr. Sara Rosenquist presents a two-day seminar on Sexual and Reproductive Psychology and Behavioural Health. Dive into topics such as infertility counselling, pregnancy, postpartum depression, the basics of sex therapy, and male PMS.
Perfect for students and professionals alike, this training and education will add a wealth of knowledge to your practice and provide an excellent jumping off point for further exploration of the mechanics of sexual and reproductive psychology and therapy. This presentation will be suitable specifically for doctors, nurses, psychologists, social workers, and other health and mental health professionals working in the area of sexual health. This opportunity will also be open to students currently enrolled in professional or graduate studies leading toward a health or mental health education.

Dr. Sara Rosenquist is a board certified (ABPP) Clinical Health Psychologist with a doctorate in Clinical Psychology from the University of Kentucky and completed a residency in Medical Psychology at Duke University Medical Center. She was a Clinical Assistant Professor at the University of North Carolina and has been working in private practice for more than 20 years specializing in couples issues, behavioural health psychology, clinical hypnosis for pain, and sexual issues including trauma, dysfunction, and donor and surrogate evaluation. Dr. Sara is an AASECT certified sex therapist and an excellent and engaging lecturer. You will walk away from this seminar feeling confident and excited to delve further into the work of sexual health and sexual psychology.

Date and Time

Location

Calgary, AB

Canada