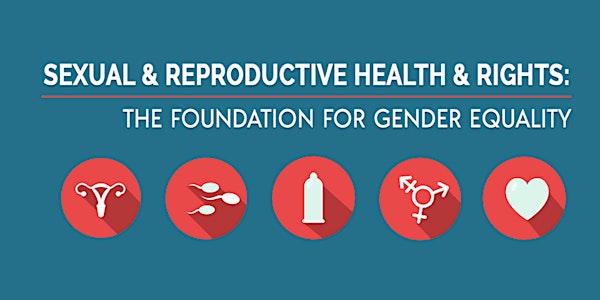 Sexual & Reproductive Health & Rights: The Foundation for Gender Equality
When and where
Location
Library and Archives Canada 395 Wellington Street Ottawa, ON K1A 0N4 Canada
Description
Sexual & Reproductive Health & Rights: The Foundation for Gender Equality
A free public event presented by the Canadian Council for International Co-operation (CCIC) in partnership with Women Deliver and the Future Planning Initiative
Part of Women Deliver 2019 Mobilization Canada's effort to engage Canadians and bring awareness about gender equality

The rights of girls and women to bodily autonomy and full sexual and reproductive health and rights (SRHR) are in the spotlight like never before. From the #MeToo movement, to the referendum on abortion in Ireland, to new political attention in Canada– girls and women around the world are demanding and making change.
With the announcement of the Feminist International Assistance Policy in June 2017 and subsequent SRHR funding announcements, Canada has committed to leading global action in support of sexual and reproductive health and rights. Domestically, Canada is also making progress, but challenges remain.
The international community is now looking to Canada as a leader in this area. But are we up to the challenge?
Join us for a dynamic evening to discuss and learn about the importance of putting sexual and reproductive health and rights at the centre of the gender equality agenda—to advance the health, rights, and well-being of women and girls in Canada and around the world.
Event Programme:
6:00 - 7:00 Reception: CSO fair, refreshments and networking
7:00 - 8:30 Introductions, panels and closing remarks
8:30 - 9:30 Reception: CSO fair, refreshments and networking
Light snacks will be served, and a cash bar will be available during both receptions.
SRHR Expert Panel
Aminata Bintu Wurie, Executive Coordinator, Youth Coalition for Sexual and Reproductive Rights

Gabrielle Bouchard, President, Quebec Women's Federation

Emily Chartrand-Hudson, Registered Indigenous Midwife, Core Leader on National Aboriginal Council of Midwives

Katja Iversen, President/CEO of Women Deliver

Razia Sultana, Founder of Rohingya Women Welfare Society



Political Panel
Kamal Khera, Member of Parliament, Parliamentary Secretary to the Minister of International Development

Sheila Malcolmson, Member of Parliament, NDP Critic for Women's Equality

Elizabeth May, Member of Parliament, Leader of the Green Party of Canada

Karen Vecchio, Member of Parliament, Shadow Minister for Families, Children and Social Development

Moderator: Susan Ormiston, CBC Senior Correspondent
For more information, please visit the Public Event page on our website.
Follow us on Twitter and Facebook: #SRHRnow

--
La santé et les droits sexuels et reproductifs: La fondation pour l'égalité des genres
Un événement public gratuit présenté par le Conseil canadien pour la coopération internationale (CCCI), en partenariat avec la mobilisation canadienne Women Deliver 2019 et l'Initiative de planification pour l'avenir

Les droits des femmes et des filles à l'autonomie corporelle et à la santé reproductive complète sont actuellement au centre de la scène comme jamais auparavant. Du mouvement #moiaussi au référendum sur l'avortement en Irlande, à l'attention politique au Canada et à la violence sexiste en Inde, les femmes demandent et effectuent des changements partout dans le monde.

Suite aux annonces de la Politique d'aide internationale féministe en juin 2017 et des subventions pour les SDSR, le Canada s'est engagé à se mettre à la tête du mouvement global en appui à la santé et aux droits sexuels et reproductifs. Le Canada fait également du progrès au niveau domestique, mais il reste cependant des difficultés. La communauté internationale se tourne désormais vers le Canada comme leader dans ce domaine. Le Canada relève-t-il le défi ?

Joignez-vous à nous pour une soirée dynamique de discussion et d'éducation sur l'importance de mettre les SDSR au cœur du programme d'égalité des genres, afin d'améliorer la santé, les droits et le bien-être des femmes et des filles au Canada comme partout dans le monde.
Horaire de l'événement

18 h – 19 h Réception : foire, collations et réseautage

19 h – 20 h 30 Introductions, panels et observations finales

20 h 30 – 21 h 30 Réception : foire, collations et réseautage

Des collations légères seront servies et un bar payant sera accessible pendant les deux réceptions.

SDSR panel d'experts :

Gabrielle Bouchard, Présidente, Fédération des femmes du Québec

Aminata Bintu Wurie, Coordonnatrice exécutive, Coalition des jeunes pour les droits sexuels et reproductifs

Emily Chartrand-Hudson; Sage-femme autochtone inscrite, chef de file du Conseil national des sages-femmes autochtones

Katja Iversen, Présidente/PDG de Women Deliver

Razia Sultana; Fondatrice du Rohingya Women Welfare Society


Panel politique :
Kamal Khera, Députée, secrétaire parlementaire du ministre du Développement international

Sheila Malcolmson, Députée, Porte-parole du NPD pour l'égalité des femmes

Elizabeth May, Députée, chef du Parti vert du Canada

Karen Vecchio, Députée, Ministre fantôme de la famille, des enfants et du développement sociale


Modératrice: Susan Ormiston, Correspondante principale à Radio-Canada


Pour plus d'informations, veuillez visiter : https://ccic.ca/fr/SRHRnow/

Joignez nous sur Facebook et Twitter avec le mot-clic : #SRHRnow