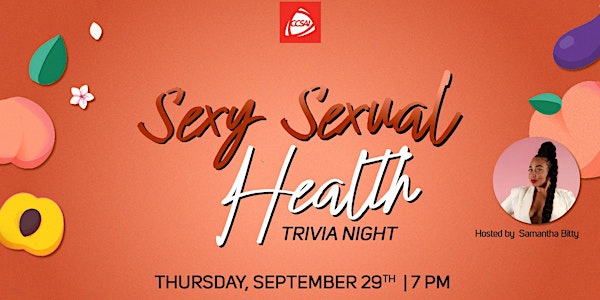 Sexy Sexual Health Trivia Night
**PLEASE READ CAREFULLY**
When and where
Location
Student Centre: Main Events Hall Centennial College: Student Centre 941 Progress Ave. Main Events Hall Scarborough, ON M1K5E9 Canada
About this event
Conversation about sex, consent, pleasure, and relationships can be awkward, but are very important! This trivia night uses humour and tact to promote healthy and fun conversations and will help empower all to take care of their physical, emotional, and spiritual sexual health.
Hosted by Samantha Bitty, whose passion, wit, and depth of sexual health knowledge, always results in memorable and impactful experiences.
Come and learn, have fun, and get a chance to win some prizes!
Event Info:
When: Thursday, September 29th, 2022
Time: Doors open at 6:45 PM, show starts at 7:00 PM
Where: Student Centre, Main Events Hall – Progress Campus
Price: FREE!
Event Policies
This event is open to all Centennial students enrolled in a Ministry approved program at Centennial College
This is an 18+ event
Students must present their MyCard (physical or digital) at entry
This event has a limited capacity. Ticket holders will be given priority to access. Walk-ins may be welcome based on capacity.
This event is sponsored and presented by the Centennial College Student Association Incorporated. As such, it is subject to all CCSAI and Centennial College policies. All actions undertaken on this trip are subject to the Centennial College Code of Conduct.
This event covers sensitive topics and discussions. We ask all participants to maintain a safe and respectful space for all attending the event.
Paladin Security and Centennial College security have the right to refuse entry to the event.
Any questions or concerns regarding this event can be sent to events@ccsai.ca