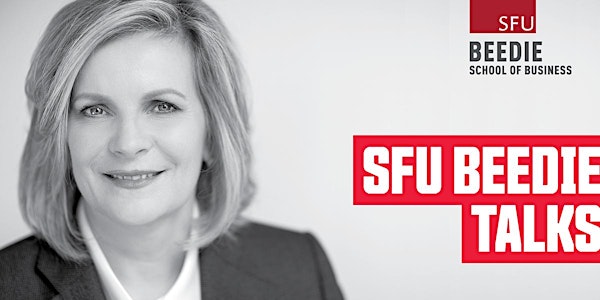 SFU Beedie Talks with Sandra Stuart: President and CEO, HSBC Bank Canada
Location
Segal Graduate School
500 Granville Street
Vancouver, BC V6C 1W6
Canada
Time for action: Diversity hiring across corporate Canada
About this event
SFU Beedie Talks is a speaker series focusing on the excellence found within the SFU Beedie community and is open to SFU Beedie alumni, students, prospective students, and partners. During the second installment of this series, you will have the exclusive opportunity to connect with alumnus Sandra Stuart, President and CEO, HSBC Bank Canada.
Sandra will discuss the actions HSBC Bank Canada has taken to promote a diverse work force - and how other organizations can follow suit - followed by a moderated Q&A, where you will have the opportunity to ask questions.
Following the keynote, attendees are encouraged to discuss takeaways from the session and connect with one another during a reception hosted by the SFU Beedie Graduate Student Engagement Office.
More about Sandra:
Sandra was appointed President and Chief Executive Officer for HSBC Bank Canada in June 2015. She is a member of the Board of HSBC Bank Canada, and is also CEO and Chair of the Board of HSBC Global Asset Management (Canada) Limited. Sandra is currently the only female CEO of a major bank in Canada, and recently received a Catalyst Canada Honours Champion Award for promoting diversity and inclusion in the workplace.
When Sandra joined the HSBC Bank Canada Board in 2010, women comprised just 20% of its members. As the Chair of the Diversity and Inclusion Committee she emphasized the importance of data and metrics to identify trends affecting recruiting, development, promotion, and retention of diverse employees to ensure targeted solutions were developed to cultivate a diverse workforce.
Through Sandra's efforts, gender equality on HSBC Bank Canada's Board, as well as her senior leadership team, has increased: the Board achieved gender parity in 2013 and maintains it today. This extends beyond gender parity to create an environment where all employees are valued and respected regardless of age, gender, sexual orientation, gender identity, ethnicity, religion, physical ability, or any aspect of personal difference.
Should you have questions about this event, please contact: gradexp@sfu.ca