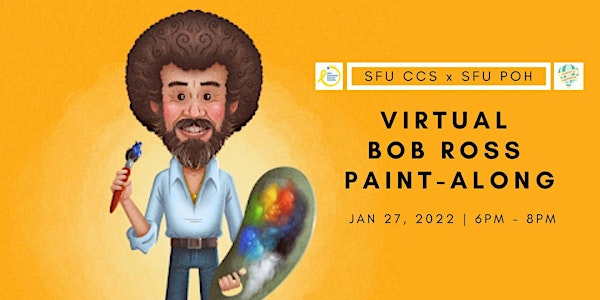 SFU Canadian Cancer Society Presents: Virtual Bob Ross Paint Along Night
Join SFU CCS & POH for an online art social fundraiser for cancer research and a chance to win cool prizes as you make amazing Bob Ross art!
About this event
SFU Canadian Cancer Society is collaborating with SFU Pursuit of Happiness to host an online art social to fundraise for cancer research! We welcome you to join us on Zoom for a virtual paint night. Participate in fun contests to win Amazon gift cards, Starbucks gift cards, and other prizes.
You will able to join us at either our 6 PM or 7 PM session that last for an hour each! The tickets for our Virtual Bob-Ross-Paint-Along Night are $5 per person, but you also have the option to donate more if you wish as all contributions from our event will be donated to our Relay for Life Fundraiser. This virtual event is also a great opportunity to learn more about SFU Canadian Cancer Society's Annual Relay for Life Fundraiser as you paint along to Bob Ross at the comfort of your room. Join us for a virtual paint night on Zoom this January 27th filled with fun contests and opportunity to win great prizes!
We will email you your Zoom link for either of the session you choose to attend within 24 hours, once you transfer your $5 donation to our account (more details on payment will be listed when you register and get a ticket).