Description
SFU Educational Review is celebrating and acknowledging authors from its 2019 publications with a first Symposium on October 19, 2019, at the Learning Hub, Faculty of Education, Simon Fraser University from 9:30 AM - 4:30 PM. The symposium is an opportunity for graduate students, faculty and alumni from the Faculty of Education including teachers, faculty and other graduate students from other Universities to attend and form potential collaborations with each other. There will be presentations from some of our authors and faculty from different areas of Education.

Come and join us for a day of celebration, community and creation!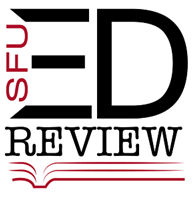 ---
Privacy Notification: SFU Graduate Studies in the Faculty of Education makes the Eventbrite service available to you for your convenience. Your use of Eventbrite at Simon Fraser University is voluntary. Please be advised that the personal information you disclose to Eventbrite is stored on servers located in the USA. If you choose to use this service, your personal information will be used to track event registration and send you event reminders. Canadian privacy laws do not apply to personal information you provide directly to Eventbrite. You may wish to review the Eventbrite privacy policy before using the service.
The University has general authority to collect personal information under the University Act (RSBC 1996, c. 468). By choosing to use this service you consent to the collection of your personal information in this manner and for the purposes described above and to its storage outside Canada.
If you do not wish to use this service, email gseinfo@sfu.ca directly to register for the session. If you have any questions about the collection of your personal information, contact Education staff at educcomm@sfu.ca.