SFU Mural Mosaic: Creative Brainstorm/Planning with Free Food!
Description
Does the thought of brightening up the SFU campus with art excite your imagination? Are you interested in sharing your voice to help us decide what this art will look like? The Mural Mosaic project was started in Fall 2018 and is a collaborative work that SFU students help create. We want your vision and inspiration to dream up the next big idea for Fall 2019! Come and join us on June 27th where you will participate in a brainstorming session to help decide the next theme/image for our SFU Mural Mosaic. There will be free snacks, beverages, and a chance for participants to win a $50 Bookstore gift card for attending (please RSVP to confirm your details for the prize draw and your attendance).
We hope to see you there!
---
Event Schedule
Date: June 27th 2019
Time: 12:30pm - 2:00pm - Free snacks, beverages and brainstorming
Location: Blusson 10901
---
Can't make it for the full hour and a half? This event is low commitment, so swing by for however long you can!
Can't make it to any of the sessions or have ideas to share? Fill out our websurvey http://websurvey.sfu.ca/survey/347022398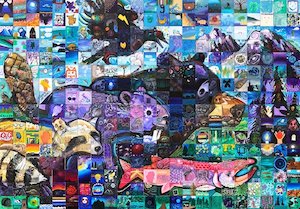 Wildlife mural created during Week of Welcome in Fall 2018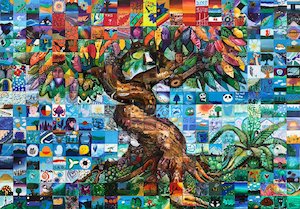 Tree mural created during Week of Welcome in Spring 2019