This lecture is presented with support from the BMO Lecture Series and John M. Munro Lecture endowments.
About this event
Mariana Mazzucato is one of the most influential—and for some, the "scariest"—economists in the world.
In her latest book, Mission Economy: A Moonshot Guide to Changing Capitalism, Mazzucato argues that capitalism is stuck. Even before the COVID-19 pandemic, it had no answers to a host of problems, including disease, inequality, the digital divide and, perhaps most concerningly, the environmental crisis. Mazzucato argues that governments and other public sector institutions must play a critical role—in partnership with the private sector and engaged citizens—in leading missions to tackle the grand challenges of our times.
A Professor in the Economics of Innovation and Public Value at University College London (UCL) and a 2020 SFU honorary degree recipient, Mazzucato advises policymakers around the world on innovation-led, inclusive and sustainable growth. She and her team at UCL's Institute for Innovation and Public Purpose (IIPP) have been hired by the Government of British Columbia to advise on a long-term economic plan that will steer the province through the post-pandemic era.
Mazzucato will challenge us to reconceptualize value and think about how mission-oriented innovation could contribute to British Columbia's unique economic context. The lecture will be followed by a conversation and audience Q&A moderated by Stephanie Bertels, Director of SFU Beedie's Centre for Corporate Governance and Sustainability.
Mariana Mazzacuto
Mariana Mazzucato (PhD) is Professor in the Economics of Innovation and Public Value at University College London (UCL), where she is Founding Director of the UCL Institute for Innovation & Public Purpose (IIPP). She is winner of international prizes including the 2020 John von Neumann Award, the 2019 All European Academies Madame de Staël Prize for Cultural Values, and 2018 Leontief Prize for Advancing the Frontiers of Economic Thought. She was named as one of the '3 most important thinkers about innovation' by The New Republic, one of the 50 most creative people in business in 2020 by Fast Company, and one of the 50 most creative people in business by WIRED.
She is the author of three highly-acclaimed books: The Entrepreneurial State: Debunking Public vs. Private Sector Myths (2013), The Value of Everything: making and taking in the global economy (2018) and the newly released, Mission Economy: A Moonshot Guide to Changing Capitalism (2021).
She advises policymakers around the world on innovation-led inclusive and sustainable growth. Her current roles include being Chair of the World Health Organization's Economic Council on Health for All and a member of the South African President's Economic Advisory Council, the Scottish Government's Council of Economic Advisors, and the United Nations High-level Advisory Board (HLAB) on Economic and Social Affairs, among others.
Stephanie Bertels
Dr. Stephanie Bertels is the VanDusen Professor of Sustainability and the Director of the Centre for Corporate Governance and Sustainability at SFU's Beedie School of Business. Stephanie is also the founder of the Embedding Project, a public-benefit research collaborative that develops practical tools to help companies embed social and environmental factors across their operations and decision-making. She regularly advises global companies and their boards on issues related to strategy, governance, and environmental and social sustainability.
Supported by

JOHN M. MUNRO LECTURE ENDOWMENT
Co-produced by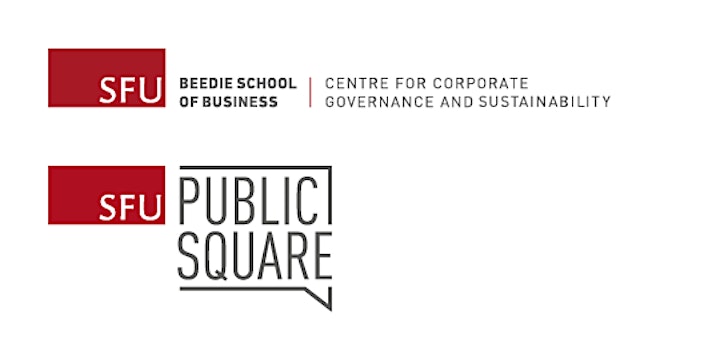 Accessibility, technology and privacy
Accessibility
Closed captioning in English will be available at this event.
A captioned video recording of the event will be emailed to all registrants after the event.
If you have any questions about accessibility for this event, please contact psqevent@sfu.ca.
Registration and password
A link and password to access this online event will be emailed to all registrants via Eventbrite shortly before the event.
Technology requirements
To engage in this online event, you will need a computer (laptop or desktop), tablet or smartphone, with speakers or headphones. A microphone and/or a webcam are recommended if you would like to fully participate in the interactive portions of this event.
We recommend that you use a computer for the best experience of this event. Some interactivity and accessibility features are not available when using a smartphone or tablet.
Protecting your privacy
This event will be recorded, but only the speakers will be visible in the published recording. The recording will be shared with all registrants and published on SFU Public Square's website, YouTube and social media channels.
To ensure that we are using online event technology in a privacy-conscious way, we are following best practices for this online event series:
We will only circulate the event link to those who are registered for the event
We will password-protect the event
We will enable end-to-end encryption
We will not use attention tracking
To protect your own privacy:
We remind you that whatever you say during the event is public, so please do not share sensitive information about yourself or others, and do not say anything you do not wish to enter the public domain.
To protect the privacy of others:
Please do not record or photograph yourself, other participants, or the hosts during the event, unless permission is requested and given.
If you have any questions about this event's accessibility, technology requirements, or privacy, please connect with us at psqevent@sfu.ca.
Community guidelines
Our community guidelines are intended to ensure the safety of all guest speakers and event participants, and to foster honest, socially accountable dialogue at our events. Thank you for respecting these guidelines!
Above all, there will be zero tolerance for those who promote violence or discrimination against others on the basis of race, ethnicity, national origin, sexual orientation, gender identity, religious affiliation, age, or disability. Anyone who incites harm towards other participants (whether through chat, video, audio or otherwise) will be removed at the discretion of our technical team and moderator.
Don't assume pronouns/gender/knowledge based on someone's name or appearance. Please refer to people using the usernames and/or pronouns they provide.
Take space, make space: share your perspective, and make space for other voices to be heard too. Recognize that we are all here to learn.
Practice self-care in whatever way you need to. If you need to get up or take a break, please do so.
Organizer of SFU Presents: Mariana Mazzucato