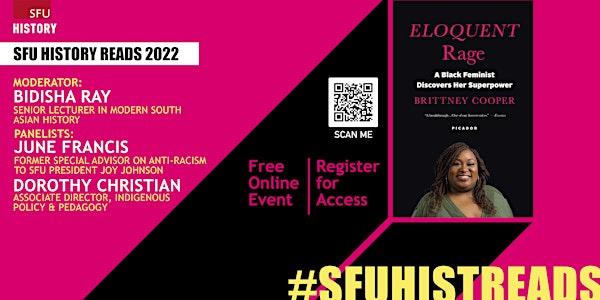 #SFUHISTREADS 2022: Reading ELOQUENT RAGE by BRITTNEY COOPER
SFU History Reads is a Public Book Club that discusses timely works of historical interest to bring the study of history to the community.
About this event
SFU HISTORY READS is a free, public book club that meets once a year to discuss a recent title of great historical significance.
This year, we will be reading Eloquent Rage (MacMillan, 2018), by author, professor, activist, and cultural critic Brittney Cooper, and, along with our panel of experts and scholars, examining the book in its historical context.
About Eloquent Rage:
"Razor sharp and hilarious. There is so much about her analysis that I relate to and grapple with on a daily basis as a Latina feminist." -America Ferrera
Anger is a powerful emotion that can allow us to keep fighting. But far too often, Black women's anger is caricatured as ugly and destructive, a threat to the social fabric of civil society. Cooper shows us that there is more to the story - eloquent rage is what keeps us all honest and accountable, and reminds women everywhere that they don't have to settle for less. Find out more on the publisher's page.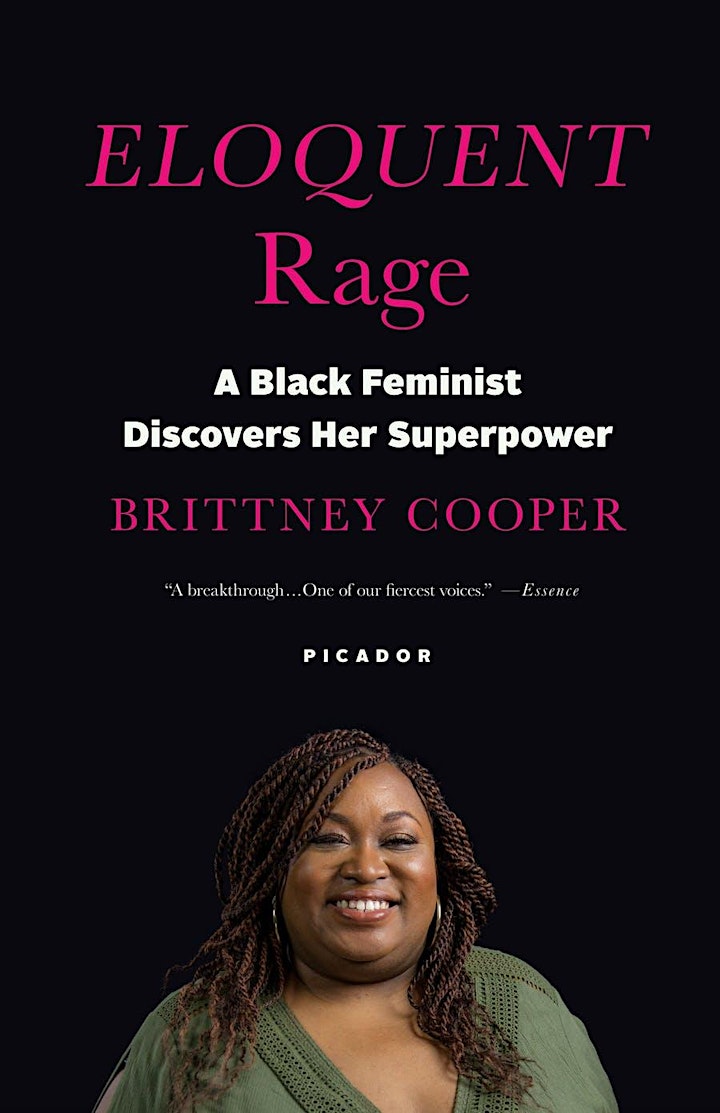 Bidisha Ray was born and raised in Calcutta, India and graduated Delhi University with a BA Honours in Political Science. She went on to achieve a postgraduate degree in International Relations (Jadavpur University, Calcutta), as well as an MSc in Gender and Development and a PhD in History in the United Kingdom (York, Cambridge and Manchester). She has taught History & Politics in the UK & Canada and is currently Senior Lecturer in Modern South Asian History at Simon Fraser University's Department of History.
June Francis is an Associate Professor of Marketing at the Beedie School of Business, Co-Founder of The Co-Laboratorio Project, Director of the Institute for Diaspora Research and Engagement at Simon Fraser University, and former Special Advisor on Anti-Racism to SFU President Joy Johnson. Her research and academic writing focus on race, racism, diversity, inter-culturality, leadership and participatory engagement approaches with vulnerable and excluded groups. She specializes in negotiated agreement-making, governance and inclusive market-based enterprise to increase the value-added for non-traditional intellectual property and organizations – such as community ownership, geographical indicators and traditional knowledge and through business development for export-led strategies for information technology and high technology firms, small businesses and micro-enterprises.
Dorothy Cucw-la7 Christian is Secwepemc and Syilx from the interior plateau regions of what is known as British Columbia. She is happy to be a good relative to her Coast Salish cousins while she lives, works, and plays on their lands. Her research centralizes land, story, cultural protocols and how Indigenous Knowledge informs and guides interrelationships with Canadian Settler society. Her curiosity in how cultural knowledge influences Indigenous production practice started when she was working for the national broadcaster VisionTV to bring Indigenous stories to the national screen. She is currently Associate Director, Indigenous Policy & Pedagogy at Simon Fraser University's Department of Graduate and Postdoctoral Studies, where she strives towards making academic life less stressful for Indigenous MA and PhD students.