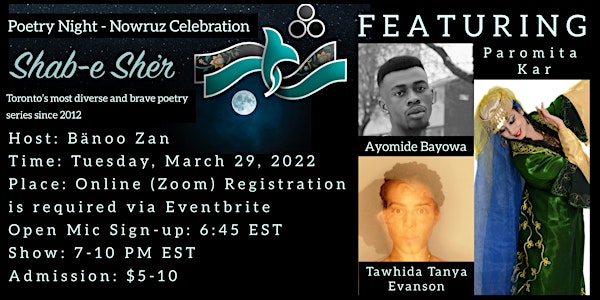 Shab-e She'r Nowruz Celebration
Toronto's most diverse & brave poetry reading + open mic series
Refund Policy
Refunds up to 1 day before event
Eventbrite's fee is nonrefundable.
About this event
Featured poets: Tawhida Tanya Evanson & Ayomide Bayowa
Featured dance artist: Paromita Kar
Host: Bänoo Zan
Time: Tuesday, March 29, 2022
Place: Online (Zoom) Registration is required via Eventbrite
Open Mic Sign-up: 6:45 EST
Show 7-10 PM EST
Admission: $5-10
Tawhida Tanya Evanson is a poet, author and multidisciplinary artist. Her two collections are Bothism (Ekstasis 2017) and Nouveau Griot (Frontenac 2018), and her debut novel Book of Wings (Véhicule 2021) was on CBC Canada Reads 2022 Longlist and one of Quill & Quire's 2021 Books of the Year. With a 25-year practice in spoken word, she performs internationally and has released several albums and videopoems. In 2013, she was Poet of Honour at the Canadian Festival of Spoken Word and received the Golden Beret Award. She is program director of Banff Centre Spoken Word and vice president of the Quebec Writers' Federation. Based in Tiohtià:ke/Montréal, she moonlights as a whirling dervish.
Ayomide Bayowa is an award-winning Nigerian-Canadian filmmaker, and writer. He is the (2021-24) poet laureate of Mississauga, Ontario, Canada. He set off 2018, as a long list of the Nigerian Students Poetry Prize, shortlist of the Eriata Oribabhor Poetry Prize (EOPP) and the Christopher Okigbo Interuniversity Poetry Prize. He was also a long list of the 2021 Adroit Prize for Poetry, semi-finalist of the 2021 Cave Canem Poetry Prize and second place in the 2021 K. Valerie Connor Poetry Prize (Student Category). His works have appeared in Beyond Words, Barren Magazine, Agbowó, Guesthouse-Lit, Stone of Madness Press, Shallow Tales Review.
Paromita Kar holds a PhD in Dance Studies from York University (2014). She is a professional dancer of traditional Indian dances. Paromita also professionally performs dances of Central Asian dances, including Afghan, Iranian, Tajik and Uzbek dance heritages. She is the choreographer and lead dancer of Ensemble Topaz, a Toronto-based integrated music-dance company, which performs dances and music of South Asia, Central Asia and across the Silk Road. She has performed in Canada, the United States, India, the Netherlands and Czech Republic. Her performances and choreographic work have been featured in a number of festivals, such as Tirgan Festival, Toronto International Dance Festival, Tales from the Silk Road at National Arts Centre, Ottawa; as well as a number of international and Canadian music videos. Her website is: paromitakar.wix.com/danseuse
About Shab-e She'r:
Shab-e She'r (Poetry Night) is Toronto's most diverse and brave monthly poetry reading and open mic series. It was founded by Bänoo Zan in November 2012, two years after she immigrated to Canada. Since then, we have been bridging the gap among diverse Toronto poetry communities and have so far featured more than a hundred poets, musicians, and dancers. And close to 2000 people have shared their poetry, music, songs and stories on our open mic. We have featured poets from different ethnicities, nationalities, ages, genders, sexual orientations, religions (or lack thereof), and poetic voices, styles and visions. Shab-e She'r core values are diversity and freedom of expression.
Shab-e She'r Facebook page: https://www.facebook.com/ShabeSherTO
Shab-e She'r on Twitter: https://twitter.com/ShabeSherTO
Attendance & Open Mic:
Dear poet, writer, lover of words,
If you join us to listen and enjoy, you are most welcome. You are the reason we create and run events. We are deeply grateful for your support.
During the event, the participants will be muted.
The private chat function will be disabled to keep the online event safe for our participants. Participants can use the public chat function to support and encourage readers, or publicize literary events they are involved in. They can also message the hosts and moderators.
Please do not record anyone without their permission.
Open Mic:
There is no pressure to perform or to join the open mic. Though it is a good idea to consider sharing a poem esp. if you are a woman, a refugee or an immigrant, a member of a visible minority, IBPOC, LGBTQ+, disabled, or if you have a unique perspective that is good to share with others. Shab-e She'r values are diversity and freedom of expression. We value peace, broad-mindedness, truth, and inclusion. We aim to build a community, not an exclusive club.
Open mic slots are 3 minutes. Open mic time includes all the introductory explanations, background information, and anything else you say.
If you wish to join the open mic, select your poem, rehearse and time yourself beforehand. On the day, join the online event no later than 6:45 PM. Message Bänoo Zan and/or Shab-e She'r team members. Open mic sign-up takes place after you register via Eventbrite and join the virtual event space on the day. Messaging organizers before 6:45 PM on March 29 and before you have joined the virtual space does not guarantee a spot on the open mic list.
After you add your name to the list, wait to be put on deck or invited to share. The order of performances will not be the same as the sign-up order.