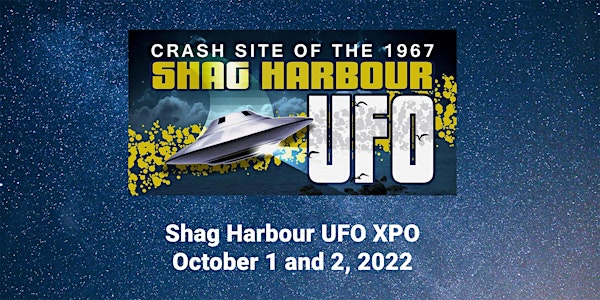 Shag Harbour UFO XPO 2022
For those curious about UFO sightings ... in Nova Scotia. Two-day event to explore what experts think, and witnesses saw.
When and where
Location
Rodd Grand Hotel, Conference Facilities 417 Main St Yarmouth, NS B5A 4B2 Canada
About this event
The Shag Harbour 2022 UFO XPO is an international UFO symposium with a difference.
It is a weekend event, from Saturday to Sunday afternoon. 
The Saturday portion features an array of world class speakers, considered experts on various aspects of the UFO phenomena. Speakers include: David Marler, Ryan Sprague, Debbie Ziegelmeyer, Rob Swiatek, Nick Pope and Chris Styles.
The Sunday program features a motor coach tour that includes the site of the October, 1967 Shag Harbour UFO crash, the Cape Sable Island site of the 2018 multiple witness daytime UFO sighting and the former top secret US listening post at Shelburne. On site commentary will be given by an actual eyewitness and a UFO researcher.
Full schedule details at: https://shagharbourufoexpo.com/schedule/
The Shag Harbour UFO XPO tells you what the experts think, what the actual eyewitnesses saw, thought and felt, in their own words, and it will take you right to the actual sites where it all happened and continues to unfold.
Shag Harbour 2022 UFO XPO Website: https://shagharbourufoexpo.com/