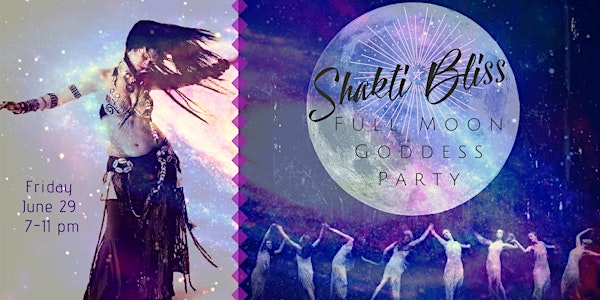 SHAKTI BLISS: Full Moon Goddess Party
When and where
Location
The Redwood DANCE STUDIO 1300 Gerrard Street East Toronto, ON M4L 1Y7 Canada
Refund Policy
Contact the organizer to request a refund.
Description
Ecstatic Dance // Sacred Sisterhood // Tantric Ritual // Belly Dancing // Conscious Movement // Crystal Bowl Soundbath // Love Ploung // Feminine Nourishment // Full Moon Celebration in BLiSS *
Imagine a space co-created by Loving Sisters for the exploration of your inner Priestess Powers. A place to celebrate the Goddess within everyone and everything. SHAKTI BLISS is an experience for Wombyn to remember their Truth; to remember the inherent Power that they have in connecting to their Bodies and following their Pleasures and deepest desires.
Ecstatic dance is active meditation. When we dance, we go beyond the mind and beyond our own individuality to become one in divine ecstasy with the cosmic force. This cosmic energy is SHAKTI KUNDALINI. It is Life Force Energy, it is the energy of creation and Bliss. In connecting to the Earth and to this Force within them, Wombyn naturally reconnect to their essence and power.
We hope to offer a space where wombyn can express this Cosmic Energy and Embody their own Goddess Female Power. A place of Non-Judgement and 100% support amongst Sisters and Friends. We wish to promote the CommUnity of incredible Wombyn in Toronto who inspire each other and support one another in expressing themselves fully and Fiercely.
On this Night of CELEBRATION we shall attune to the FULL MOON IN AQUARIUS which brings us Revolution (Re-LOVE) and Revelations by opening our visionary and psychic abilities. The Aquarius is the Shaman, the bridge between worlds, and the Archetype that allows us to activate our Priestess Powers through which We shall channel and embody the energy of the Goddess and express Her through our CHANTS, UNIVERSAL BEAUTY and SENSUAL MOVEMENTS.
A Woman's Womb is one of her most precious gift. From this center, she can manifest and tap into her Creatrix Power. With the guidance of the Wise Wombyn S'ya, Professional Belly Dancing Teacher and Women's Empowerment Leader, we shall explore this incredible power within our Bodies <3
WHAT TO EXPECT:
~ Tantric Orgasmic Breath by Vasanti Kea
~ Goddess Blessing by Clarity Bartleet
~ Guided Belly Dancing by S'ya

~ Sound Healing by Reba Campbell
~ Body Painting by Meghan Simao
~ Delicious Sensual Snacks
~ Love Plounge for Loving Touch, massages and conscious snuggles
~ Sensuous Ecstatic Dance Music
~ Goddess Photoshoot by Antosia
ABOUT YOUR FACILITATORS:
Clarity Bartleet is a Shamanic & Tantric Yoga Teacher and Thai Masseuse. Her path has guided her to cultivate a spiritual awareness within herself and through embodied experiences of Pleasure, Bliss and Emotional work/shadow work. Her inner guidance and body wisdom guides her to perform and participate in regular Tantric, Shamanic and Goddess Rituals. Clarity strongly believes in the medicine of the Human Touch & Play in order to open the energetic Heart and Connect with each other. She has been sharing this passion with others by facilitating Tantric Workshop for couples, Partner Yoga and Thai Massage Workshops. Clarity hosts Women's Circles during which she cultivates her awareness of the Power of the Divine Feminine and tunes into Shakti Kundalini energy used for Spiritual Awakening. Her circles have helped hundreds of women to feel empowered on their journey and to find deeper connection with themselves and with others.
Vasanti Kea embodies Tantra & Eros with a uniquely inspiring spark. For the past 10 years, through experiences with indigenous healers, she has acquired powerful modalities to encourage inner harmony. She is an Energetic Bodyworker & Medicine Womban, Massage Therapist and Hatha Yoga Teacher. Vasanti is a vibrant seeker of truth, using Tantra and Sacred Sexuality as avenues of meditation and divine exploration. She has empowered hundreds of people to restore the peace and luminosity between the Divine Feminine and Divine Masculine. The arts of Tantra, Medicinal Pleasure and Conscious Relating are passion in her life. She has been facilitating workshops and events internationally for 3 years.