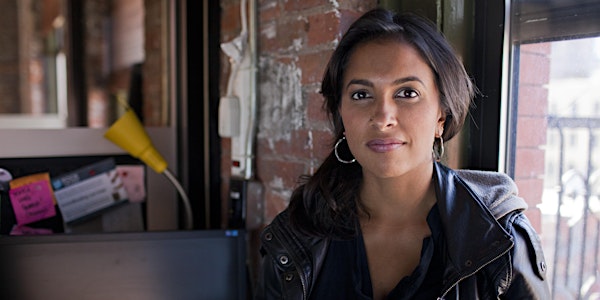 Shalini Kantayya: The Race for a Clean Energy Future
When and where
Location
Centennial Centre for Interdisciplinary Science 1-430 University of Alberta 11335 Saskatchewan Dr NW Edmonton, AB T6G 2M9 Canada
Description
Registration is now closed, but free tickets may be available at the door. Please come to the venue for 7 p.m.
Award-winning filmmaker Shalini Kantayya drops us into the middle of the high stakes, fast paced race to build a clean energy future—the biggest economic opportunity of our time. In her films, she tells the story of the rapid innovation that is disrupting outmoded industries and putting power back into the hands of those who need it most.
Not only is Shalini Kantayya witnessing change—her film work is helping communities take action. Her scifi film A Drop of Life is set in a near dystopic future, but it has already been used as a tool to organize water rights in 40 villages across Africa. And her feature documentary Catching the Sun uses the stories of entrepreneurs in the U.S. and China to show how solar energy can be a powerful force for democratization.
Come meet a ground-breaking new voice in documentary film, and learn about the clean energy revolution that is happening all around us, right now. In this entertaining and interactive presentation, Shalini Kantayya uses film clips to tell stories that move the heart, reach new audiences, and make real change in the world.
REGISTER NOW FOR FREE
Shalini Kantayya will speak at the University of Alberta's International Week in January, 2018. Register now to guarantee a spot in the audience, and to receive reminder emails closer to the date of the event.

ABOUT CATCHING THE SUN
Shalini Kantayya's feature documentary Catching the Sun explores the stories of solar energy entrepreneurs in the U.S. and China. The film premiered at the 2015 Los Angeles Film Festival and was named a New York Times Critics' Pick. It's also part of American Film Showcase, and will be shown at U.S. embassies and diplomatic missions around the world. The film won the Best Feature award at the San Francisco Green Film Festival, and was released globally on Netflix on Earth Day 2016 with Executive Producer Leonardo DiCaprio. Catching the Sun has been nominated by the Environmental Media Association for the 2016 EMA Award for Best Documentary and has been translated into 35 languages.
"A must-see film. An eye-opening look at workers and entrepreneurs on the forefront of the clean energy movement that will transform, and enliven the way you see the future. What is clear is the wonderful opportunity the transition to clean energy represents."
— Mark Ruffalo
Also speaking at the Clean Energy Future Panel Discussion
Wednesday January 30, 2018
12:05–12:55 p.m.
Heritage Room, City Hall
Shalini Kantayya and three local guests share their thoughts on a clean energy future from a local and global perspective. Local presenters include Rajan Rathnavalu from Newo Energy, a Social Enterprise; Leo Wong from the Social Innovation Institute at MacEwan University, and Holly Driscoll from WiRE (Women in Renewable Energy).

Part of University of Alberta's International Week
The University of Alberta's International Week runs Jan. 29–Feb. 4, 2018. This year's events will focus on how the arts can contribute to social and environmental justice. Join in for a week of workshops, film screenings, theatrical presentations, music, exhibits and keynotes.
Part of MacEwan University's Global Awareness Week
Learn about human rights and gender equality issues. Witness the impact of sustainability initiatives and poverty education. Get creative at hands-on workshops. This is Global Awareness Week.
https://www.macewan.ca/wcm/MacEwanEvents/AnnualEvents/GlobalAwarenessWeek/index.htm
A Change for Climate Community Event
The City of Edmonton's Change for Climate campaign has inspired a series of unique events leading up to the 2018 Cities and Climate Change Science Conference. From insightful lectures and film screenings to art exhibits and science fairs, these events will inspire residents and visitors to engage in dialogue and take action beyond the conference.
https://www.edmonton.ca/attractions_events/schedule_festivals_events/climate-change-conference-community-events.aspx