Event Information
Refund Policy
Contact the organizer to request a refund.
Eventbrite's fee is nonrefundable.
About this Event
Join Congregation BINA for the film screening of Shalom Bollywood. CO-hosted by Kulanu Canada.
This event is in memory of Diana Abraham z"l, a loved and dearly missed member of Congregation BINA and the Bene Israel Jews of India community.
Sunday, September 8, 2019 at 2PM
Lodzer Centre: 12 Heaton St, North York, ON M3H 4Y6
$5 admission fee
Facebook Event: facebook.com/events/379377432725968/
**Tickets also sold at the door
About Congregation BINA:
Website: congregationbina.org/ca/
Facebook: facebook.com/congregationbina/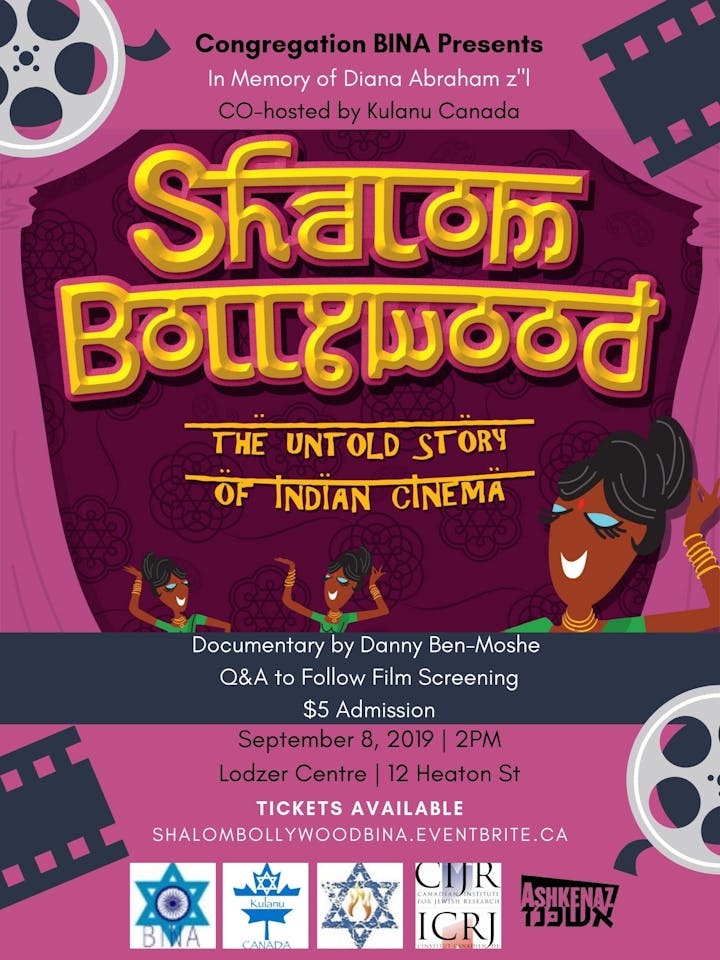 About the Film:
SHALOM BOLLYWOOD: THE UNTOLD STORY OF INDIAN CINEMA (2017) 76 mins, Directed by Danny Ben-Moshe www.shalombollywood.com
Shalom Bollywood is a documentary on the early involvement of Indian Jews in the Indian Film Industry. This colourful feature length documentary reveals the unlikely story of the 2000–year old Indian Jewish community and its formative place in shaping the world's largest film industry.
When Indian cinema began 100 years ago it was taboo for Hindu and Islamic women to perform on screen, so Indian-Jewish women, who were generally more liberal and progressive, took on female lead roles, which they then dominated for decades. SHALOM BOLLYWOOD tells the tale of these "nice Jewish girls" (and boys) who became icons at the heart of Indian cinema from the turn of the 20th century to the present day. The film reveals how Bollywood's Jewish stars pushed the boundaries of Indian cinema to make Bollywood what it is, and in so doing tells of many Bollywood firsts: the first dance, the first kiss, the first talkie and the first colour film. Through the personal lives of the Jewish stars the film tells the broader Indian Jewish story.
By exploring the story of the Jewish Bollywood greats SHALOM BOLLYWOOD also explores the theme of interfaith relations, in what is described as a land without anti-Semitism, the Jewish stars married Muslims and Hindus, harmoniously sharing in each other customs, as religious differences were put aside in the pursuit of a shared goal and passion: making great films.SHALOM BOLLYWOOD also reveals the story of Jews still working in Bollywood today, continuing the work of their parents and grandparents. Present day senior Bollywood figures, including acting legend Rishi Kapoor, discuss the film industry in general and the impact of the Jewish stars in particular.SHALOM BOLLYWOOD is told with humour and insight and challenges the common understanding of what we mean by being a Jew and Indian. An all singing, all dancing documentary with swirling saris and coloured yamalkas. A documentary about kosher papadams, bizarre costumes, religious co-existence, the odd elephant, big screen romance and 12 million cinema tickets a day. Just your standard Jewish themed documentary really.
Date and Time
Refund Policy
Contact the organizer to request a refund.
Eventbrite's fee is nonrefundable.