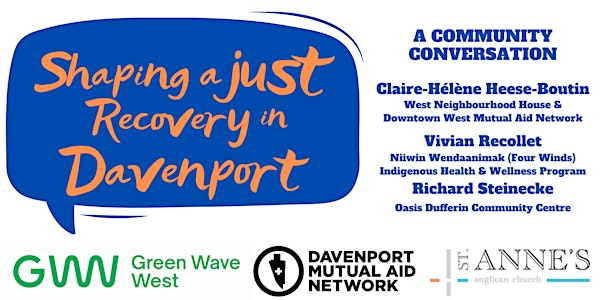 Shaping a Just Recovery in Davenport: A Community Conversation
How do we shape a just, equitable, green, and inclusive recovery from COVID-19? Join us for this important conversation on June 11th!
About this event
St. Anne's Anglican Church is delighted to partner with Green Wave West and the Davenport Mutual Aid Network to host a community conversation about what a #Just Recovery from COVID-19 might look like.
Our online exploration, hosted on the Zoom platform, will include three panelists who will share their experiences of the COVID-19 pandemic and their thoughts about opportunities to make our community more resilient (i.e. green, just, equitable) in the long-term.
The panelists are:
The conversation will be moderated by Peter Gorman, Chair of Social Justice & Advocacy at St. Anne's Anglican Church. There will be an opportunity for participant input via poll questions and the chat function of Zoom.
The Zoom meeting link will be sent to all registered participants 48 hours before the event. The event will start promptly at 7:00 p.m. , and the meeting room will be open by 6:45 p.m.
There is no charge to participate in this community event. Please help us spread the word by inviting others to join in the conversation!