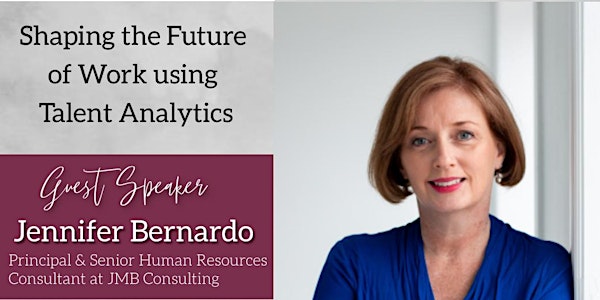 "Shaping the Future of Work using Talent Analytics" by Jennifer Bernardo
"Shaping the Future of Work using Talent Analytics" by Jennifer Bernardo
About this event
Topic: Shaping the Future of Work using Talent Analytics
Topic Summary:
As we navigate a return to work in the post pandemic world, employees and organizations are re-evaluating the workplace and the future of work. Organizations that are able to effectively leverage analytical tools to attract talent, provide a better employee experience, and support performance, will be better positioned for success in an evolving workplace.
Speaker's Bio:
Jennifer Bernardo has more than 25 years of experience as human resources professional, providing talent management solutions in both internal and external consulting roles. Jennifer's expertise encompasses working with organizations and leadership in order to establish and implement initiatives designed to attract, retain, and engage employees. She has experience in working with a broad range of public and private sector employers, including transportation, manufacturing, community health care, and not-for-profit organizations. Jennifer is an experienced facilitator, and she has developed and delivered human resources related courses and programs at the University of Guelph, Western University, and Fanshawe College, in addition to corporate programs and sessions related to organizational learning and development.
Jennifer holds her Masters Degree in Education from the University of Toronto (OISE), and holds a Bachelor of Arts from Brock University. She is a Certified Training and Development Professional (CTDP) and a member of the Institute for Performance and Learning.
We are pleased to announce her support towards our "Career Development" virtual event scheduled for Wednesday, September 22nd, 2021, 6:00pm EST.
Register with us to attend. It's free!