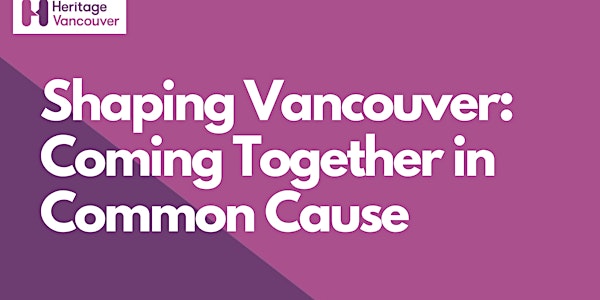 Shaping Vancouver: Coming Together in Common Cause
Members from Punjabi Market, Joyce Collingwood and Chinatown discuss helping each other sustain their heritage in the city.
About this event
Shaping Vancouver: Coming Together in Common Cause
Various communities have been tirelessly devoted to sustaining their cultural identities, connections to and experiences of place in neighbourhoods across the city. Because of the city's growth, identity, experience and living heritage tied to place become vulnerable with development pressure. The challenges around safeguarding the relationship between place and culture are often similar and some groups have joined together to cooperate and support each other. In this Shaping Vancouver event, join us for a conversation with three dedicated people working to support Punjabi Market, Chinatown, and the Joyce-Collingwood neighbourhoods in a wide-ranging discussion about inspiration, struggles, shared goals, mutual support, city policies and the hard work to sustain the heritage that is important to them in their neighbourhoods.
Guests:
Stephanie Leo, Chinatown Legacy Stewardship Group
Pall Beesla, Punjabi Market Collective
William Canero, Joyce Street Action Network
___________________________________________________________________________________________________________
In partnership with SFU's Vancity Office for Community Engagement, UBC Asian Canadian and Asian Migration Studies and St. John's College.