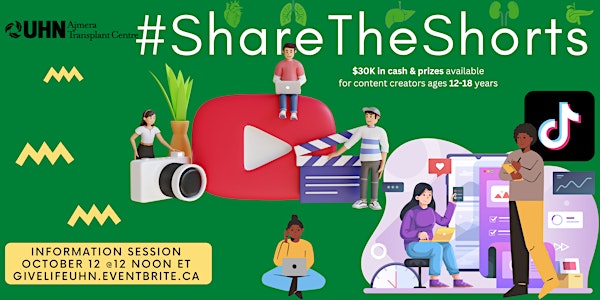 #ShareTheShorts Information Session
Use your social media content creation skills to help raise awareness about organ donation and transplantation
About this event
#ShareTheShorts is a competition sponsored by the Ajmera Transplant Centre to:
promote awareness of the lifesaving power of organ donation and transplantation
engage students and educators in the creation of engaging and informative content that will appeal to younger and more diverse audience
build a library of innovative short-form video content public awareness messages for participating partners, social media influencers and youth to share on social media and use during key events (eg. NOTDAW, Be A Donor Month, Living Donation Week etc.)
Young creatives are invited to submit short videos appropriate for use on TikTok, YouTube, Instagram and/or other social media. The videos can range in length (from15 seconds to 3 minutes) and there is no limit on the number of submissions per individual, class or school.
The competition is open to students ages 12-18 years in Canada & US. All accepted submissions will be entered into a draw for prizes for budding creators(e.g., cameras, lighting, microphones, gimbals, etc.). The top submissions will be awarded up to $1,000.
$30,000 in cash and prizes available. The deadline for submissions is December 31, 2022. Submissions received by December 1 will be eligible for early bird prizes!
Young creatives, parents, educators invited to attend information session on October 12 at 12 noon Eastern.
Register to learn more!
Last year 652 Canadians were removed from the transplant wait list because they became too ill or died waiting for an organ.
It doesn't have to be this way. One organ and tissue donor can save up to eight lives and enhance the lives of 75 others.
Healthy people willing to donate a kidney or a part of their liver can also help - and live a long and healthy life after donation. Currently one in 5 transplants is made possible by a living donor.
For more information visit:
Additional resources:
US