Shattering the Silence: India's Authors Protest Recent Murders
Description
Shattering the Silence: India's Authors Protest Recent Murders
An Evening with Ashok Vajpeyi
Event Description can be viewed below the poster.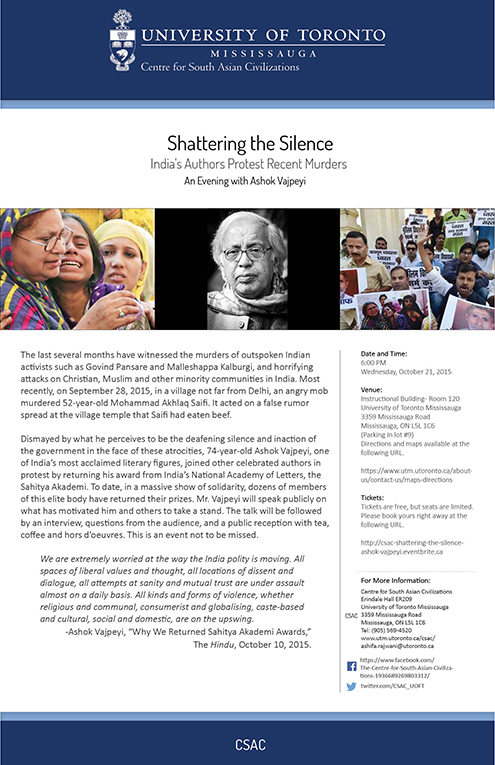 The last several months have witnessed the murders of outspoken Indian activists such as Govind Pansare and Malleshappa Kalburgi, and horrifying attacks on Christian, Muslim and other minority communities in India. Most recently, on September 28, 2015, in a village not far from Delhi, an angry mob murdered 52-year-old Mohammad Akhlaq Saifi. It acted on a false rumor spread at the village temple that Saifi had eaten beef.
Dismayed by what he perceives to be the deafening silence and inaction of the government in the face of these atrocities, 74-year-old Ashok Vajpeyi, one of India's most acclaimed literary figures, joined other celebrated authors in protest by returning his award from India's National Academy of Letters, the Sahitya Akademi. To date, in a massive show of solidarity, dozens of members of this elite body have returned their prizes. Mr. Vajpeyi will speak publicly on what has motivated him and others to take a stand. The talk will be followed by an interview, questions from the audience, and a public reception with tea, coffee and hors d'oeuvres. This is an event not to be missed.
"We are extremely worried at the way the India polity is moving. All spaces of liberal values and thought, all locations of dissent and dialogue, all attempts at sanity and mutual trust are under assault almost on a daily basis. All kinds and forms of violence, whether religious and communal, consumerist and globalising, caste-based and cultural, social and domestic, are on the upswing."

-Ashok Vajpeyi, "Why We Returned Sahitya Akademi Awards," The Hindu, October 10, 2015
"India's literary community is disgusted. Dozens of writers say every day brings more evidence of intolerance and bigotry going mainstream — a man lynched allegedly for eating beef, an atheist critic of Hindu idol worship gunned down — all met by a deafening silence from the government."
-Nirmala George, "Dozens Return India's Highest Literary Award to Protest Growing Climate of Intolerance," The Globe and Mail, October 14, 2015
FAQs
Is it open to the public?
Yes, all are welcome to attend.
How do I get there?
Click here for detailed maps and directions.
Where can I park?
The University's Parking Lot #9 is right next to the venue.
Whom do I contact if I have additional questions?
If you have any questions, please feel free to contact:
Ms. Ashifa Rajwani, Administrative Officer, Centre for South Asian Civilizations, 905-569-4520, ashifa.rajwani@utoronto.ca
Or
Ms. Shabina Moheebulla, Secretary, Centre for South Asian Civilizations, 905-569-4492, shabina.moheebulla@utoronto.ca
Organizer of Shattering the Silence: India's Authors Protest Recent Murders
The Centre for South Asian Civilizations (CSAC) at the University of Toronto promotes greater understanding of South Asia through vibrant and informed conversations and explorations of the region's cultures, histories, languages, religions, and peoples. Its Director is Professor Shafique Virani, and it boasts faculty expertise in the fields of archaeology, art history, languages, history, and the history of religions, CSAC provides resources for the study of South Asian pasts and their contemporary relevance. With the rise of the political, economic, and cultural influence of South Asia, knowledge of this region and its history is of increasing global relevance, and the Centre supports a wide range of activities related to the countries of Afghanistan, Bangladesh, Bhutan, India, Iran, Maldives, Nepal, Pakistan and Sri Lanka, including colloquia, public lectures, creative performances, research affiliations, and study abroad opportunities.