Description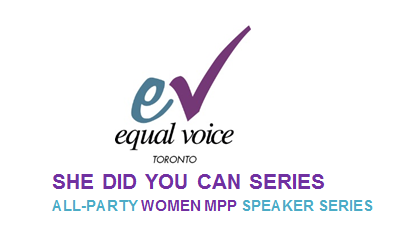 Equal Voice Toronto Chapter is proud to bring back its popular SHE DID YOU CAN: All-Party Women MPP Speaker Series that provides insights into why elected MPP women from each of the three major political parties chose politics as a career and as a channel to advocate for their personal causes, and to have an impact.

Come and be inspired!


The 2016 SHE DID YOU CAN Series includes:
June 6: Cheri DiNovo, NDP MPP (Parkdale-High Park) – 6:00 to 8:00 pm, registration at 5:30 pm

September 13: Gila Martow, Conservative MPP (Thornhill) – 6:30 to 8:30 pm, registration at 6:00 pm

December 6 (REVISED from November 1): Cristina Martins, Liberal MPP (Davenport) – 6:30 to 8:30 pm, registration at 6:00 pm
All three events will be held at Samara, located at 33 Prince Arthur, close to Bloor and Bedford, and within walking distance from St. George and Museum subway stops.

Pricing:
One event, or purchasing one at a time: $20.00
All three events: $50.00


Other Event Details:
Equal Voice membership is not a pre-requisite. Tickets are available to anyone interested in attending, as long as they have purchased their ticket(s). Why not bring a friend, and introduce them to Equal Voice?
Wine and cheese with light snacks will be served. Equal Voice T-shirts and mugs will be available for purchase.

For more information on the SHE DID YOU CAN Speaker Series, please contact Equal Voice Toronto Chapter at info@equalvoicetoronto.com