About this Event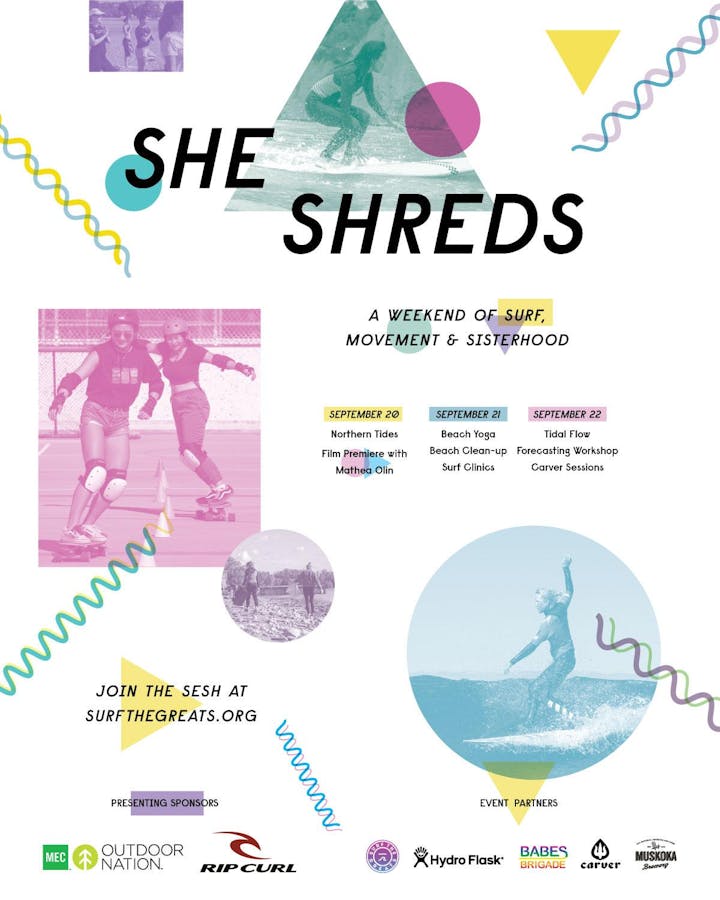 Join us for a weekend of freshwater surf and sisterhood. From Surf the Greats surf shop to the sandy shores for Ashbridges Bay, we'll be hosting a variety of activities and workshops to introduce you to the amazing community of women shredding the Great Lake, and show you what the Toronto surf life is all about.
To make these experiences available to as many people as possible, please limit your registration to ONE workshop/activity per day. Thanks to the generosity of our presenting sponsors, Rip Curl and MEC, all She Shreds activities and workshops are being offered for a very small fee. Registrants will be asked for a $10 deposit to reserve their spot for each clinic and workshop. All proceeds from registration will be donated to the Freshwater Fund.
Beach Yoga and Beach Clean-up are open to ALL participants, with no cap or fee to participate. Tidal Flow Movement Class can accommodate a maximum of 15 people as space is limited.
Shred Sched:
*** Friday ***
7:00 PM Northern Tides film premiere—a short film featuring Mathea Olin, Paige Alms and local Haida waverider and artist, Gwaliga Hart. Featuring Q&A with Mathea Olin and filmmaker Nate Laverty.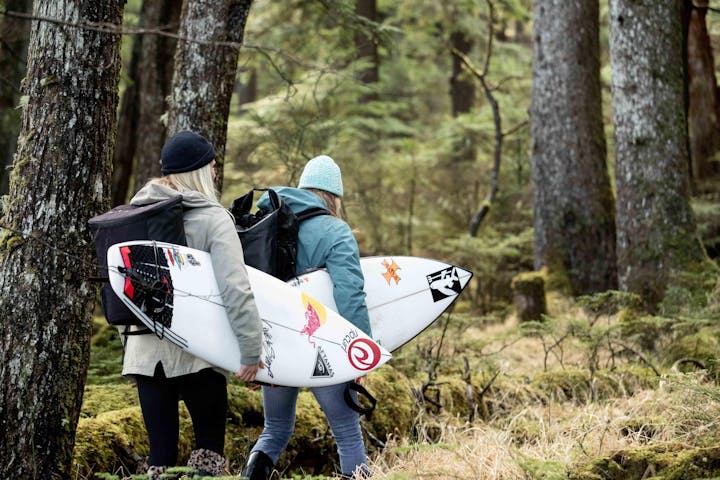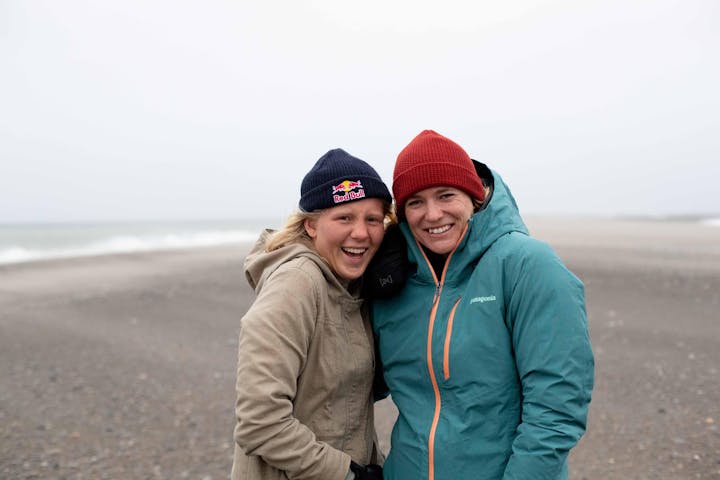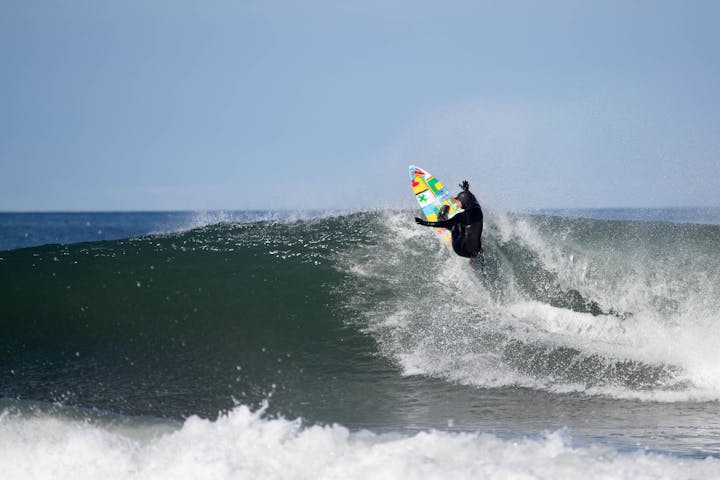 *** Saturday ***
9:00AM: Beach Yoga (BYOMat or blanket)
10:00AM: Beach clean-up, hosted by MEC Outdoor Nation
11:00AM: Flat Water Intro to Surf Clinic 1
12:30PM: Flat Water Intro to Surf Clinic 2
Featuring music by a special guest DJ Gimmemar (10AM – 3PM)
2:00PM: Skateboarding Clinic with Babes Brigade
4:00PM: Carver Clinic 1
5:00PM: Carver Clinic 2
*** Sunday ***
9:00AM: Tidal Flow Movement Class
12:00PM: Wave Forecasting Workshop
We are stoked to announce our special partnership with Babes Brigades for a skateboarding clinic at the Ashbridges Bay Skate Park this year. Babes Brigade is a women's skateboarding brand and group based in Toronto. All bodies are welcome to attend and they encourage female identifying people to attend. The company has been hosting meet ups and lessons for over 4 years. Founder Stephanie Battieste leads the beginner friendly group lessons.
There are 6 tickets available for participants who have their own skateboard and 6 tickets available for students who don't have their own skateboard. Please choose your option accordingly so we can offer lessons to as many people we can. The minimum age for the skateboarding classes with Babes Brigade is 10 years old.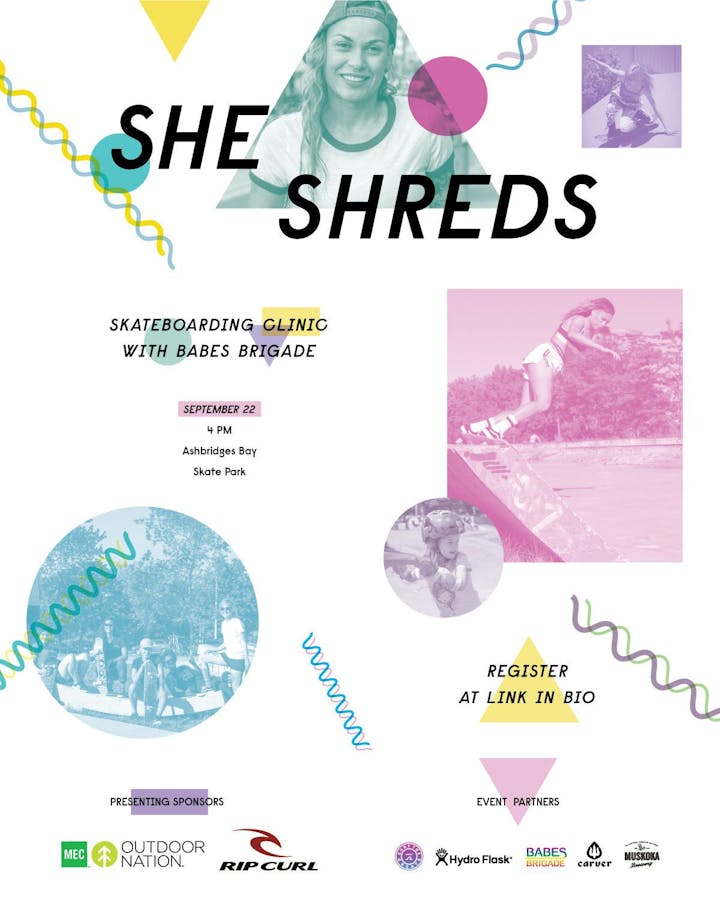 She Shreds is presented by:
We appreciate the support from our event partners:
About She Shreds:
She Shreds is an annual event hosted by Surf the Greats. From the onset, our goal has been to create and support an environment where local women feel welcome to experience Great Lakes surfing, with no cost or equipment barrier, and no prior experience required — just a willingness to try something new.
In our community, She Shreds is a time for surf and sisterhood. It's when we reset and remind ourselves of why we love to surf on the Great Lakes. And, as we grow our tribe of lake surfers we remain mindful that the best communities are those which are welcoming, open, inclusive and representative.