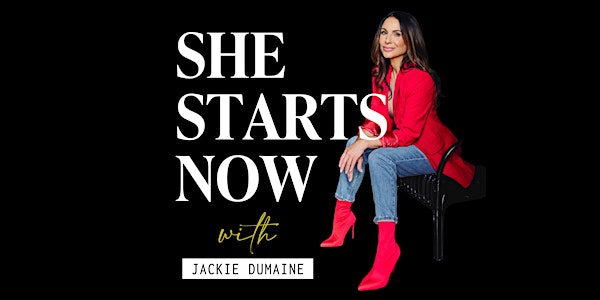 SHE STARTS NOW - A Celebration of Bold, Brave Beginnings
A FULL DAY women's event like no other. Prepare to be inspired, entertained and transformed while supporting the Safe Haven Foundation.
Date and time
Sat, Apr 22, 2023 10:30 AM - 5:30 PM MDT
Location
cSPACE King Edward 1721 29 Avenue Southwest #Suite #125 Calgary, AB T2T 6T7 Canada
About this event
Join Jackie Dumaine and friends it celebrate the courage it takes to step out of your comfort zone and step into your life.
She Starts Now combines the energy of all your favourite things, all wrapped up into a unique TRANSFORMATIONAL ENTERTAINMENT EXPERIENCE that you'll never forget (we guarantee it).
Soulful Women's Retreat + Vegas Stage Show + Ted Talk + 90's Jams!
Proceeds of this event will be donated to the Safe Haven Foundation of Canada, an organization that gives homeless and at-risk girls safe and secure housing so they have the chance to dream and start a new life.
She Starts Now is for you if:
🌹 You're feeling the nudge to step out of your comfort zone and explore new possibilities for your life, career or business and want the tools, support and spark to START (you'll get all of this and more)
🌹 You're ready to make significant shifts in your life and want a pathway to make it happen, along with a dose of electrifying inspiration that won't fade after the event is over
🌹 You want to network and surround yourself with trailblazing women, make meaningful connections, have some FUN and more than a few laughs (and you WILL laugh).
🌹 You need a reason to gather your friends, put on your most fabulous outfit and shake up your energy by experiencing something new
🌹 You want to support the Safe Haven Foundation and make a real difference in a young girl's life.
A Transformational Experience Like No Other
🌹 A deep dive with Jackie Dumaine into what might be holding you back from doing the thing you've always wanted to do or making the changes you know you need to make
🌹 Interactive experiences that will shift your perspective on what's possible for your life, career or business (you might just surprise yourself!)
🌹 Real, raw and vulnerable stories from women who chose to be brave in the face of fear and adversity
🌹 Unique, mind expanding entertainment that will leave you thinking "If she can do it, so can I."
🌹 A keep-it-real comedy break with Speaker and Entertainer Jenny B and a "wild" voice expanding and confidence boosting session with Professional Voice Coach, Emma Harding
🌹 A surprise performance from a very special guest (sorry, we can't give it away!)
🌹 Delicious food, cocktails/mocktails, mingling and a celebratory 90's dance party to wrap up the day (and still have you home in time for dinner)
Event Agenda and Full FAQ at the bottom of this page
Jackie Dumaine is a podcast host, speaker, mentor, business coach and founder of She Starts Now.
She has worked with over 1000 women from around the world, through her coaching programs, workshops and retreats and has spent 25 years studying the principles of self-actualization and human potential.
She's had the privilege of witnessing the transformation that happens when you decide to say ENOUGH to the pain of living in your comfort zone and YES to the joy of radical possibility.
And now, she wants the same for you.
Jackie will be guiding you through the She Starts Now 6 pillar process designed to help you take action on a dream, goal or simply a new way of being.
Whether it's taking your first art class, running a marathon, building financial wealth, creating healthy habits, becoming a public speaker, letting go of toxic relationships, starting a business or finally deciding to put yourself first, by the end of the day you'll have the tools and the confidence to start making it happen.
Jenny B is a sought after speaker, leadership trainer, Top 40 under 40 recipient and has worked with some of the world's biggest brands from Red Bull to Nascar.
She's living proof that taking action on what lights you up is the foundation of joy and connection. Jenny B will be joining us to share her quick wit and magnetic personality with a keep-it-real stand up comedy act that will have you laughing until you cry.
Did you know? Laughter is good (like, really good) for your brain and mental health. It releases dopamine naturally, creates a sense of euphoria, reduces pain, lowers stress hormones and plays a pivotal part in our sense of motivation.
So let's get laughing, okay?
With over 20 years experience as a professional voice coach, Emma is the founder of Rockit Vocal Studios and the 2022 Musical Artist in Residence at the Calgary Library. She's worked with singers and actors of all levels, from complete beginners to platinum selling artists and is passionate about helping others find authenticity in their voice.
Emma and Jackie will be taking you on a "wild" journey to discover your own unique voice and unshakeable confidence. You'll feel like a rock star, we promise.
Fuzzy has been waking Calgarians up for over 20 years as the kind hearted, fun loving morning show host on Virgin Radio Morning Show (formerly Vibe 98.5). He's a legend in the Calgary music scene and has curated the exclusive 90's playlist for the She Starts Now wrap up dance party.
And did you know? Fuzzy is becoming one of the most in demand wedding officiants in Calgary. So if you're ready to say "I do", he'll make your day a special one. Will he DJ too? You'll have to ask him!
PS - Fuzzy will not be attending live, but his VIBE will be us (pun intended) on the dance floor.
There comes a time in your life when you stop putting everyone else's dreams in front of your own and you decide to step into the spotlight and into the stage of life.
Our special surprise guest will make you feel all the feels with a performance that will leave you in awe. You'll never hear yourself say "it's too late" ever again.
What You'll Receive:
🌹 All event content, experiences and performances
🌹The ability to support the Safe Haven Foundation. Proceeds of the She Starts Now event will help make a difference in a young girl's life by providing her with a safe warm home, mentorship and unconditional love. You'll meet some of these brave girls at the event and hear their powerful stories of transformation
🌹 Access to a private pre-event Facebook group where you'll meet other participants, get exclusive behind the scenes updates on the She Starts Now podcast launch and a few extra surprises
🌹 Post-event online gathering via Zoom to recap the experience, share updates and dive deeper into the She Starts Now process (date TBD)
🌹 A beautiful custom She Starts Now journal to document your a-ha moments, inspirations and next steps
🌹 A She Starts Now travel sized glass water bottle to keep you hydrated during and after the event
🌹 Gourmet grazing station by Salon Catering with gluten-free/vegan options (think luxury charcuterie board, but better) and sweet treats that will leave your tastebuds swirling
🌹 Signature Rose Blossom Prosecco cocktail or mocktail (made with rose petals soaked in honey for 30 days)
🌹 A take home gift with over $300 in products, including a limited edition art print by Paul Van Ginkel
LIMITED EDITION signed print by Calgary artist, Paul Van Ginkel:
Your full sized print will be available to take home in secure packaging on the day of the event.
During your ticket registration, please choose from the Passion of a Tornado [23"x13"] or White Roses [20"x15"].
These prints are sold individually for $150 each on the artist's website + are included in your ticket price.
Larger images are shown at the very bottom of this page.
The first step in creating an expansive new reality is in trusting the whispers and following the nudges.
They are always guiding you in the right direction.
Jackie Dumaine and She Starts Now are proud supporters of the Safe Haven Foundation of Canada.
Your ticket proceeds will be going toward giving a young girl a second chance. CIick here to learn how
We support small and local businesses and this event wouldn't be possible without them.
THANK YOU to our valued sponsors and partners.
BOOK A TABLE
Want to book a table for 8 of your friends or colleagues? Email hello@jackiedumaine.com
FOLLOW ALONG FOR UPDATES
Follow @jackiedumaine on Instagram for inspiring stories on the Safe Haven Foundation, more event announcements (YES! there's more to come) special guest features, the She Starts Now Podcast launch, event sponsors and the amazing local businesses we're partnering with to make this experience happen.
SPONSORSHIP OPPORTUNITIES
We are actively seeking individual and corporate donation sponsors to reach our goal of raising $22,000 for the Safe Haven Foundation.
If you or your organization would like to contribute to this goal in a meaningful way (and be recognized for it if you choose), please email hello@jackiedumaine.com
WATCH THIS MOVING VIDEO to learn more about how you'll be helping the young women in the Safe Haven Foundation program.
FREQUENTLY ASKED QUESTIONS
Have a question? Some of the most common questions can be found in the FAQ section below or email hello@jackiedumaine.com
YOUR ART PRINT CHOICES:
PASSION OF A TORNADO:
Paul Van Ginkel
WHITE ROSES: Paul Van Ginkel
Agenda
10:30 AM - 10:55 AM
REGISTRATION - EVENT STARTS PROMPTLY AT 11:00AM
---
Please arrive on time to secure your seat, the She Starts Now Experience starts at exactly 11:00am
11:00 AM - 1:00 PM
WELCOME / EVENT PROGRAMMING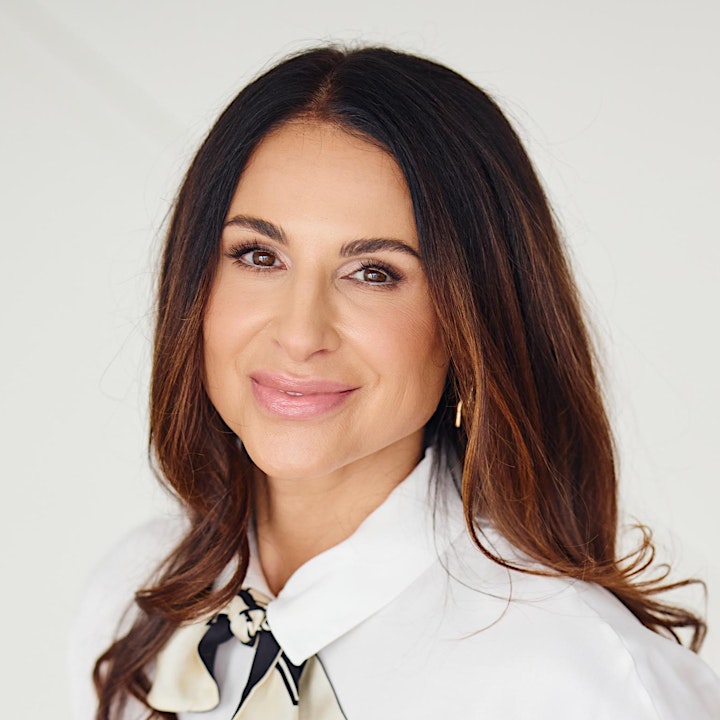 Jackie Dumaine
---
Welcome message from Jackie & the She Starts Now vision. What it takes to step out of your comfort zone? The She Starts Now pillars of Compassion, Curiosity and Courage will be shared with Interactiv...

1:00 PM - 1:50 PM
LUNCH / CONNECTION /INTERACTIVE SURPRISES
---
Gourmet Grazing Station courtesy of Salon Catering. Enjoy a Signature Cocktail/Mocktail or Wine Network with amazing women. Photo booth courtesy of Hip Image plus Interactive assignments to connect w...

1:55 PM - 4:30 PM
EVENT PROGRAMMING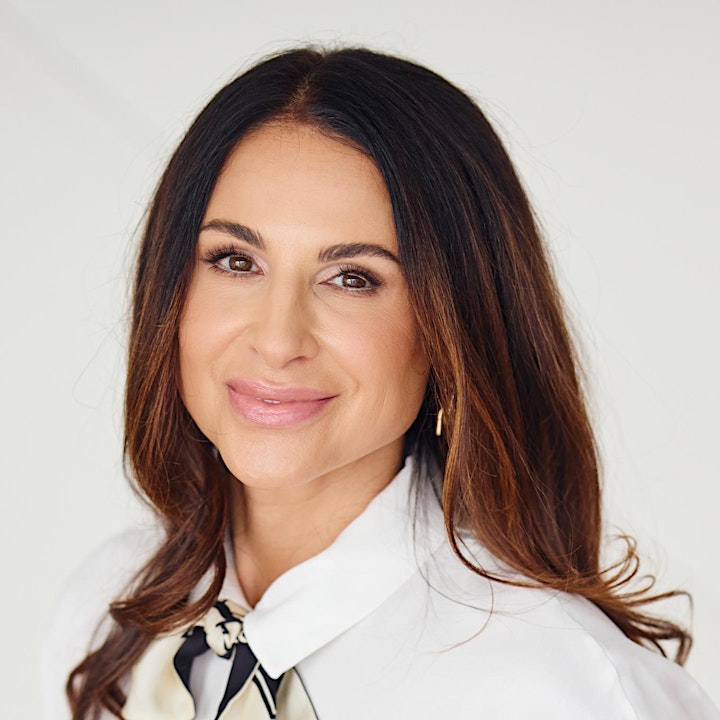 Jackie Dumaine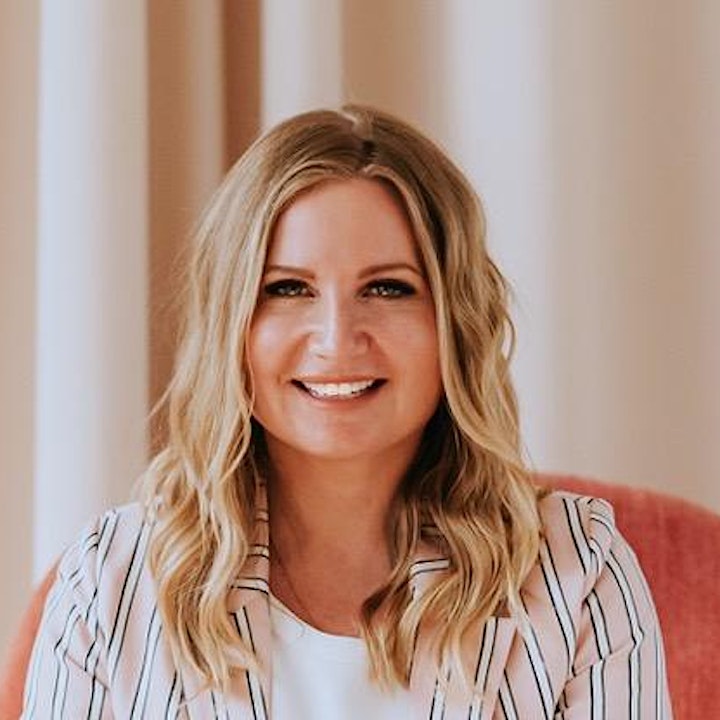 Jenny B
Emma Harding
---
Join sought-after international speaker + entertainer, Jenny B, for a comedy break that will make you laugh until you cry. And, what does it take to truly find and use your voice? Join singer songwri...

4:30 PM - 5:30 PM
CLOSING CEREMONY & DANCE PARTY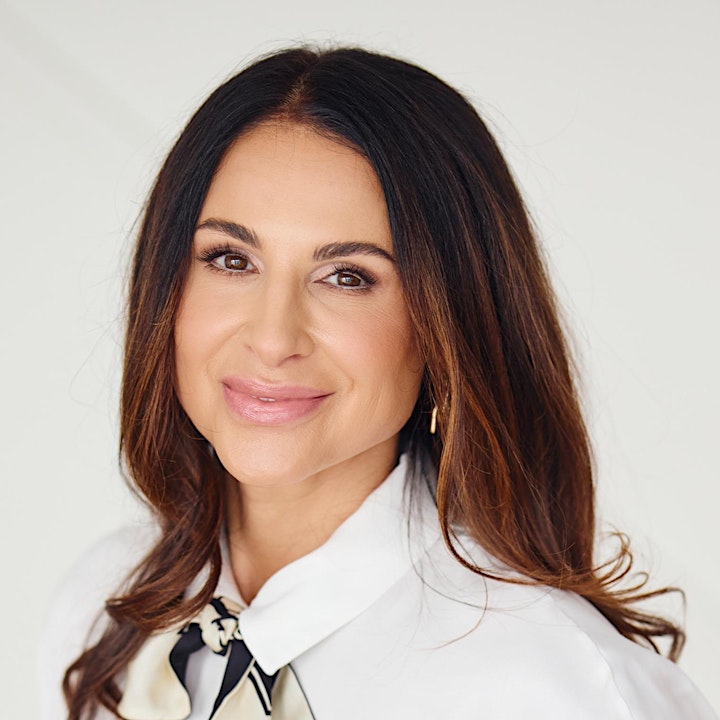 Jackie Dumaine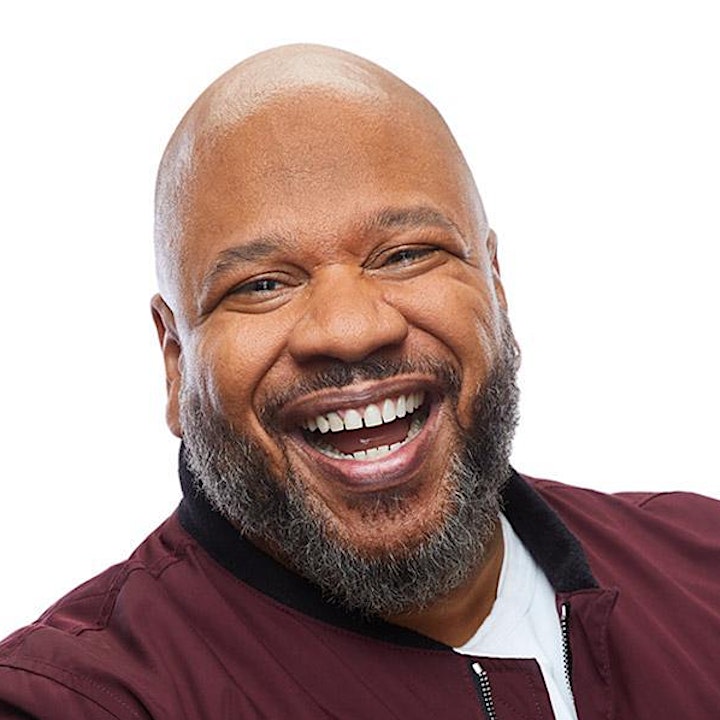 FUZZY
---
Closing ceremony and of course, our 90's Jam Party curated by Fuzzy from Virgin Radio
Frequently asked questions
Can I sponsor a ticket or a table? Or can I reserve an entire table for me and my friends?
Where do I go when I get to the CSpace?
What time should I arrive?
What should I bring with me?
I don't have anyone to go with, will I feel awkward?
I'm traveling from out of town, where should I stay?
Can I make a donation to the Safe Haven Foundation of Canada?
Is the CSpace building accessible?
What's the private Facebook Group and how do I join?
Can I purchase a ticket for someone else or sponsor a ticket for a woman in need?
What are the seating arrangements? Can I sit with someone I know?
What if I can't make it? Are there refunds?
About the organizer
Hey, I'm Jackie! A business consultant, speaker, mentor, soon-to-be podcast host and founder of the She Starts Now movement. I've guided over 1000 women on transformational journeys through my retreats, coaching programs and interactive workshops and am fascinated by the brave stories that turn struggle into triumph. I'm on a mission to create unforgettable experiences that help you see bigger possibilities for your life, career or business while providing the tools, mentorship and support to make it all happen.