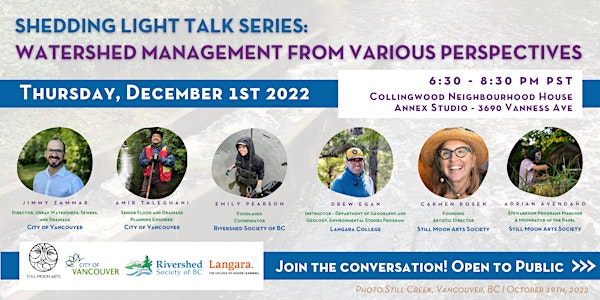 Shedding Light Talk Series: Watershed Management from Various Perspectives
Roundtable on how watershed planning & management can integrate into urban planning! Hear from Non-profits, City of Vancouver & Scientists!
When and where
Location
Collingwood Neighbourhood House - Annex 3690 Vanness Avenue Vancouver, BC V5R 5B6 Canada
About this event
Join Still Moon's final Shedding Light Talk for the year! Watershed Management from Varying Perspectives. Active stakeholders are invited to a roundtable to share their perspectives on holistic watershed management.
Summary:
Date: Thursday, December 1st 2022
Time: 6:30 to 8:30 pm
Location: Collingwood Neighbourhood House Annex [3690 Vanness Ave, Vancouver, BC V5R 5B6]
What to Expect:
The evening will focus on the Vancouver-local watershed for which the event host, Still Moon Arts Society, works in: The Still Creek Watershed.
Learn about the organization's journey advocating for its prioritization of its health by activating, restoring, and using arts as a means of connecting the community to their environment.
Roundtable Panelists & Purpose:
You will hear from local non-profits, the City of Vancouver, and scientists on how watershed planning and management can be integrated into urban planning, and how watershed management can support the creation of resilient, healthy and liveable cities!
The evening will focus on:
Community involvement in watershed restoration
Key players in watershed management
How art and creative expression can be a bridge to watershed engagement on the community level
Policies that support or hinder watershed management
Benefits and threats that watershed planning can have on ecosystems
And more..!
Together, we will envision what the Still Creek watershed could look like in the next 50 years, and discuss a road map for achieving this vision.
Keynote speakers for the night include:
🔊 Jimmy Zammar – Director, Urban Watersheds, Sewers, and Drainage, City of Vancouver
🔊 Amir Taleghani – Senior Flood and Drainage Planning Engineer, City of Vancouver
🔊 Emily Pearson - Foodlands Coordinator, Rivershed Society
🔊 Andrew Egan - Keynote Scientist, Instructor of Environmental Studies at Langara College
🔊 Carmen Rosen - Founder & Artistic Director, Still Moon Arts Society
If you have any questions, please email adrian@stillmoonarts.ca
We look forward to seeing you there and envisioning what health watersheds for our city looks like!