Description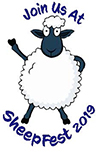 SheepFest 2019 on March 9th, 2019 in Burns Lake BC will be an opportunity for sheep producers throughout the Regional District of Bulkley Nechako and beyond to come together for a fantastic sheep workshop. The workshop will have three speakers and there will also be a discussion about possibly establishing a producer association.

The speakers are:
Dr. Lisa Surber, LM Livestock Services, Private Wool & Sheep Consultant from Newall, South Dakota. She was formerly the Wool Education Coordinator with the American Sheep Industry Association.
Dr. Glenna McGregor, DVM, BC Ministry of Agriculture Veterinary Pathologist from Abbotsford, BC, will be presenting on Herd Health.
Hani Gasser, Robson Valley Sheep Company from McBride BC. Hani and his wife Theres once farmed a Sheep Dairy in Chase, BC where they produced cheese and yogurt products. Hani will be presenting on Sheep Artisan Cheese.
There is also a BONUS to SheepFest 2019! On Sunday March 10th at the Burns Lake Public Library, 585 Government St., Dr. Lisa Surber will be available to meet with producers. We will be starting at 9:45 a.m. - 4:00 p.m. and the day will have further discussion on wool market, sheep nutrition and sheep pastures. If you would like to attend, please contact Debbie Evans, P. Ag., Agriculture Coordinator at the RDBN office 250-692-3195 or email debbie.evans@rdbn.bc.ca and pre-registration is required and will be based on first come basis.