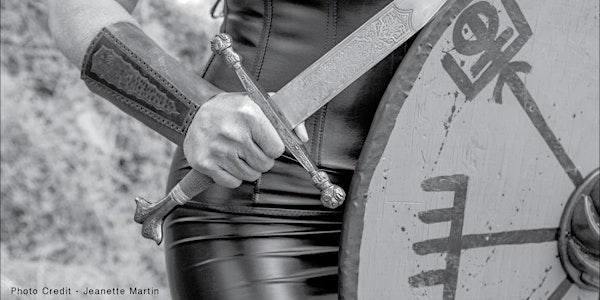 Shield Maiden
DOORS - 6pm / SHOW - 7pm - Come early - dress as a warrior! Bring friends, a picnic, blanket, chairs! Join the rowdy crowd Skol!
When and where
Location
The Commons - Resovoir Stage 675 North Road Gabriola, BC V0R 1X3 Canada
About this event
SHIELD MAIDEN - Funny. Sexy. Fierce. Unapologetic!
Last seen off-Broadway, NYC! Back for one night on beloved Gabriola!
Written and Performed by Melanie Teichroeb
Prod. Mngr. Sandy Cumberland / Dir. Nicole Nattrass / Prem. Dir. Robin Kelly
Warrior, leader, motivational speaker, Ingrid Larsdöttir, is looking for new recruits! Her presentation is a hilarious and sometimes gripping clarion call that that spans the centuries. She empowers women to claim their inner warrior and invites men to be allies in the battle for equality.
Shield Maiden addresses sexism, gender bias, sexual freedom, and trauma. It does so with irreverence, empathy and humour. The dance between strength and vulnerability is explored as the warrior character Ingrid seeks new warriors and inadvertently reveals her own dark and violent personal history.
DOORS at 6pm. / SHOW at 7pm
Come early with friends! Bring your own chairs, blankets, picnic provisions. Be a part of the rowdy crowd!
This performance is outdoors at the the Commons Resorvoir stage.
Chairs will NOT be provided.
For mature audiences please -Language and subject matter.