Description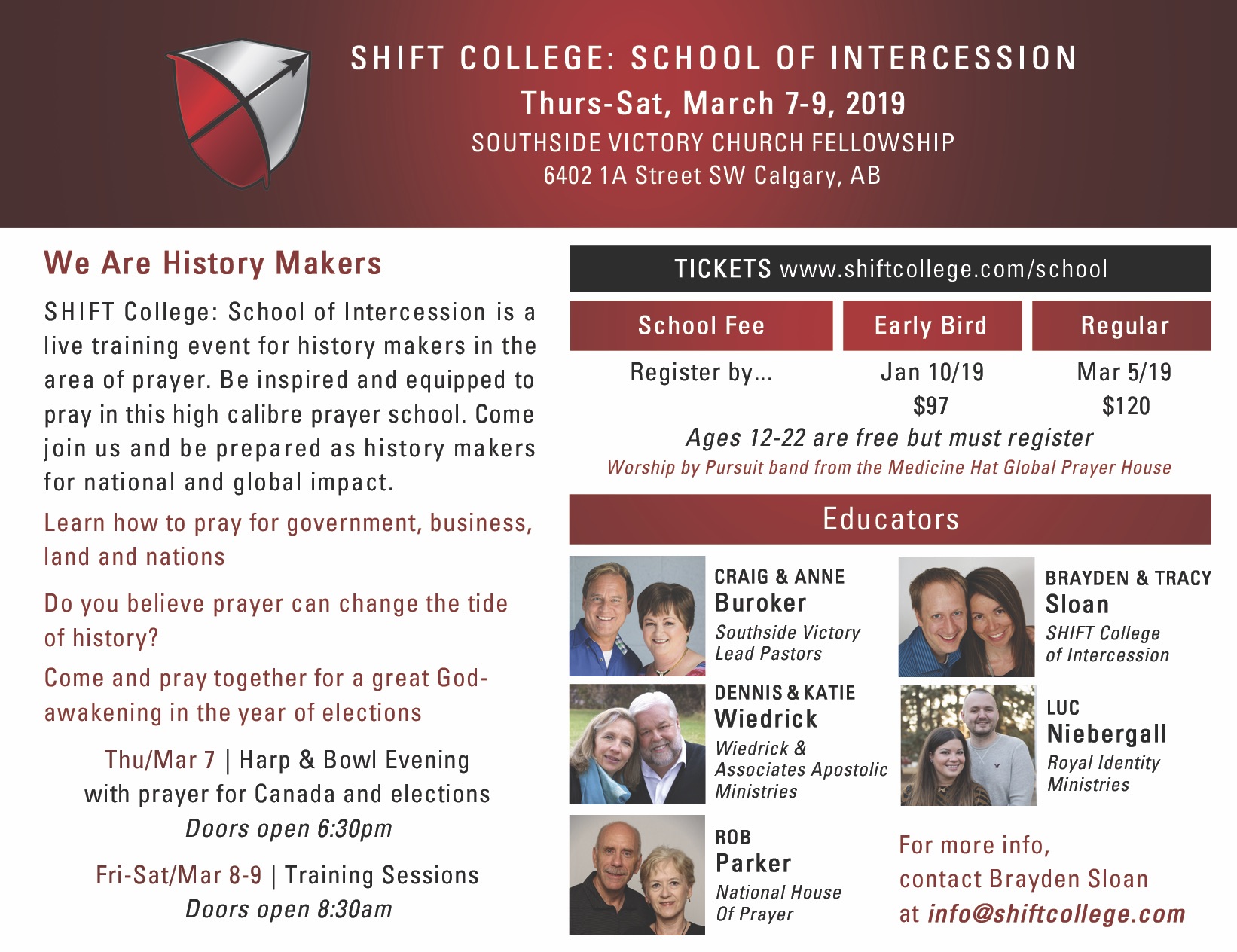 Craig and Anne Buroker

Lead Pastors - SouthSide Victory church

Educator
Pastor Craig and Anne have pastored the Southside Victory church for over 25 years. With a heart for true open worship and a relevant prophetic spirit in the church, their desire is for every person to come into all that God has for them. They also travel extensively and have their own Web ministry. Craig and Anne live in Calgary and enjoy their 3 children, Ben, Ian and Jennifer and their grandsons Lex, Asher, and Finley.
Luc Niebergall

Royal Identity Ministries

Educator
Luc Niebergall lives in Calgary, Alberta with his wife Sophie. He is the founder and director of Royal Identity Ministries and functions as an itinerant minister throughout the nations. Luc extensively trains and equips the body of Christ in leadership, friendship with God, the prophetic ministry and many other principles of the kingdom of God. Luc serves the body of Christ as a recognized prophetic voice and develops healthy prophetic cultures where God can move and speak. Luc has developed and planted several ministry schools and has been featured on television and radio. He is the author of six books.
Rob Parker

Director - National House of Prayer

Educator
Rob and Fran Parker are the founders and Directors of NHOP. They heard the call to create an "Embassy of Prayer" in the nation's capital on Canada Day – July 1st, 2000 after Rob had made a 73 day Prayer Walk from Calgary to Ottawa. After several years of sharing the vision with other leaders across the nation they moved to the capital in 2004 to begin establishing a ministry that would mobilize prayer for government.

Brayden and Tracy Sloan

Founders - SHIFT College of Intercession

Educators
Brayden graduated with a Bachelor of Theology from Horizon Seminary in 2000. He went to Japan and taught English for 7 years to every type of educational institution for the sole purpose of gaining insight and experience in all areas of education. One of his favourite institutions to teach at was the Japanese University, where he taught English courses with a specific focus (nursing, social science, music). There he learned how to form more specific lesson plans in a professional atmosphere. Brayden's educational philosophy is to integrate, experience and replicate all that is learned to impact whatever sphere the student enters. As president and instructor at SCI, he is committed to providing education that meets those categories - integration, experience and replication.
Tracy Sloan has an entrepreneurial bent that goes back to her teens. She also taught 4 years in Japan to many different age groups. She even started her own school from scratch, which became very successful. From 2007-2010, Tracy endured the strict program of dental hygiene and graduated with her diploma to be certified to work on and educate people regarding their oral health. Tracy gained a PhD in intercession when their marriage exploded in 2005 and entered the school of prayer, praying up to 8hours a day for their marriage destiny. God heard her prayers and restored their marriage after 3.5 years of praying in May of 2009. Now with this full acclamation she encourages others that prayer is powerful and that it is indeed a learned skillset.


Dennis and Katie Wiedrick

Wiedrick & Associates Apostolic ministries

Educator
Two rather ordinary people from Southern Ontario now thrust into an international ministry that spans over 40 nations. This includes pastoring, teaching, writing, television, missions, intercession, business coaching, spiritual parenting, etc.
Dennis and Katie Wiedrick love to teach on The Fatherheart of God, Prayer and Intercession, Five-fold Ministry, and the 7 Mountain Principle. But highest on their list of priorities next to loving God, is the apostolic family of spiritual sons and daughters they parent — part of a generation of young leaders who will change the world!