About this Event
Whether you are a hyper-growth scale-up receiving tons of media attention (another Wealthsimple article?), or small and scrappy, brand positioning and messaging has a surprising impact on the success of your hiring programs. No pressure, right? When you're an aspiring Shopify but working on a pre-raise budget, snagging some media coverage can be a great way for potential hires to find out about what you offer. We've never seen this covered from an employer brand perspective, so we brought on a panel of expert journalists and PR champions to teach you their secrets.
You'll learn, as a Talent, People, Culture or HR pro, how to pitch, how to know WHO to pitch, and what to say (and not to say) when connecting with journalists and the media. We'll also share some juicy tips and tricks of what actually interests journalists in terms of content and what they wish companies were pitching more of. This isn't just any panel: you'll leave with an on-paper plan to go get that "great place to work" coverage.
Featuring: Jessica Galang (Betakit, The Logic), Lindsay Lapchuk (Freshbooks) , Stefan Palios (Pulse Blueprint) and Anita Chauhan (Crescendo) + special surprises from Bright + Early and others.
What is Bright + Early Labs?
We created B+E Labs for the community of critical thinkers and rule-breakers that support and inspire Bright + Early. It's for anyone who is building culture, data, community and inclusivity into talent and HR programs. It's for those building the future of work. We aim to avoid the "been done" and the "all inspiration/no action" and arm you with usable, hypermodern People and Culture techniques.
Event will be opened with a Land Acknowledgement by Rebecca Benson.
Free childcare by ECEs is being provided by Bright + Early via The Workaround, a child-friendly coworking space. Pre-registration is required for childcare. Please indicate when you purchase a ticket whether you'd like to use this service.
This event is in support of VentureOut. All proceeds will be donated.
Thank you to TWG for their donation of space and snacks!
About your panelists: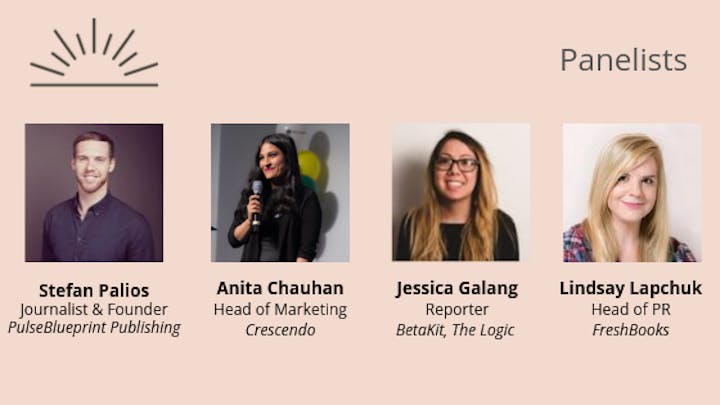 Stefan Palios is a journalist and entrepreneur passionate about the people behind tech. He's the founder of PulseBlueprint Publishing, a digital publication that helps people solve workplace challenges and build organizations.
Anita Chauhan is the Head of Marketing at Crescendo. Her marketing team educates people at all levels in any job function on how diversity and inclusion can help build more empathetic and higher functioning teams.
Anita's experience spans 8+ years: time spent at Ten Thousand Coffees as the Director of Marketing, 2+ years as the Head of Marketing for Zoom.ai, a Toronto-based AI company, as well as 6+ years in government agencies and in her own entrepreneurial ventures.
Jessica Galang is a tech journalist who has been tracking the Canadian tech ecosystem for the last several years. In the past, she was news editor at BetaKit and a reporter at The Logic, interviewing hundreds of entrepreneurs in emerging industries.
Lindsay Lapchuk is the head of PR at FreshBooks, one of Canada's consistently top ranked employers. Her communication strategies and creative storytelling have led to a company culture segment for FreshBooks on CBS This Morning, and employer branding coverage in The New York Times, Fast Company, MSNBC, Lifehacker, Forbes, Entrepreneur, and Inc.
Land Acknowledgement
Rebecca Benson (M.A.) is a Tuscarora and Gaelic community organizer, writer, facilitator, adult learning and development specialist, and equity consultant; they have lived in Dish With One Spoon territory for much of their life. The 2014 Recipient of the Museum of Healthcare's Margaret Angus Research Fellowship, she has applied her understanding of healthcare access for Indigenous people to designing trainings for the non-profit, corporate and government sectors. Rebecca has worked for a number of non-profits including Historica Canada, Egale, The Writers' Union of Canada, and is currently a Managing Partner and Director of Equity, Diversity & Inclusion with Challenge Accepted. They are Two Spirit, a proud Mohawk language learner, and are deeply committed to fostering solidarity between BIPOC communities.