Description
40th Anniversary Screening!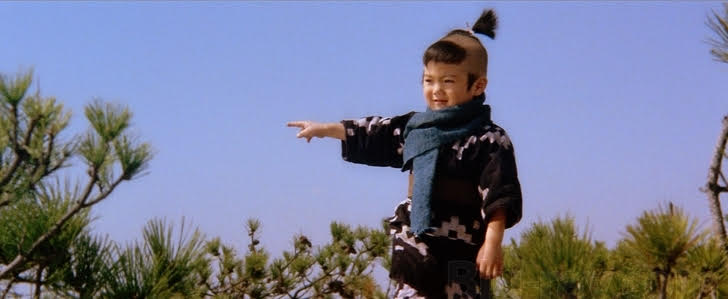 About the film
SHOGUN ASSASSIN
Japan/USA 1980 90 minutes R
Directed by Kenji Misumi, Robert Houston
Starring Tomisaburô Wakayama, Kayo Matsuo
"When I was little, my father was famous. He was the greatest samurai in the empire, and he was the Shogun's decapitator. He cut off the heads of 131 lords for the Shogun. It was a bad time for the empire." - opening narration of SHOGUN ASSASSIN.
A bad time for the empire made for a good time for western audiences who in 1980 were treated to this arterial spray soaked 85-minute distillation of two feature length Japanese movies from 1972 based on the Lone Wolf and Cub manga series. A re-cut, condensed, dubbed version of multiple foreign movies based on a comic book sounds like it'd be a hot mess, but through some magic alchemy, including the addition of a bumping, new analog synth soundtrack and an absolutely iconic voice-over by Gibran Evans as the little boy Daigoro (sampled for GZA's Liquid Swords), SHOGUN ASSASSIN stands as a uniquely badass work of its own. Ogami Itto the Lone Wolf is a master samurai whose prowess and very existence threaten the paranoid Shogun. The Shogun sentences Ogami to death and murders his wife forcing him to flee across the country with his toddler son, consumed with rage and desire for vengeance. The outlaw samurai roams the countryside pushing his child around in a booby-trapped baby carriage and dismembering, disemboweling, and decapitating anyone who gets in his way. The compact story rarely pauses for story or character development and instead relishes in showing conflict after conflict between Ogami and the colorful group of would-be assassins that greet him around every corner. Blades fly and bright red blood squirts from so many necks, stumps and faces as he carves his way across feudal Japan. This is the stuff dreams are made of. - Alamo Drafthouse
*Curated by David Bertrand