Description
Rams is a documentary portrait of Dieter Rams, one of the most influential designers alive, and a rumination on consumerism, sustainability, and the future of design.
For over fifty years, Dieter Rams has left an indelible mark on the field of product design and the world at large with his iconic work at Braun and Vitsoe. The objects Dieter has designed have touched the lives of millions of people––so many of us have had a Braun coffeemaker, shaver, stereo, calculator, speakers, or alarm clock. Or an Oral-B toothbrush. Or a Vitsoe 606 shelving system. Or any of the hundreds of other products Dieter has designed or overseen the design of. (https://www.hustwit.com/rams/)
---
Join Shopify as we celebrate the design and UX community in Waterloo Region with a special screening of the highly-anticipated documentary Rams and a conversation with director Gary Hustwit.
What to expect:
6pm - Light snacks & refreshments @ Shopify
7pm - Welcome & screening of Rams @ CIGI
8:30pm - Q&A with Rams director Gary Hustwit
9pm - Doors close
Check out trailers and more details here.
Thank you to our partner, CIGI, for helping to make this event possible!

--
Our office is fully accessible and we have gender neutral facilities available on site. Should you require any additional accommodations, please let us know at least one week in advance.
By attending this event, you grant Shopify (and others on behalf of Shopify) the right to record, film, photograph, or capture your likeness in any media and to distribute, broadcast, use, or otherwise disseminate, in perpetuity, such media without any further approval from or any payment to you.
--
FAQs
Where is parking located?
Free parking is available in the parking lot behind the building off of Father David Bauer Dr.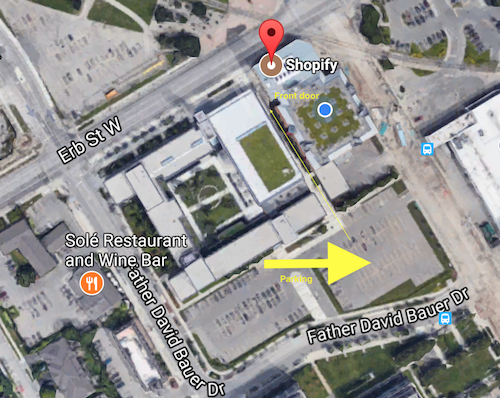 Do I need to bring my ticket?
No - once you register, we'll have your name on file.
Where is CIGI located?
Right next door! We'll walk over as a group right before the screening so please check-in at Shopify first.