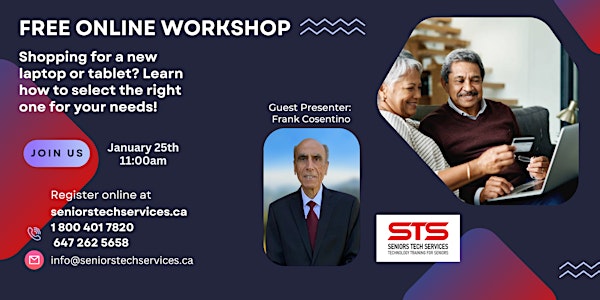 Shopping for a New Laptop or Tablet
Learn how to shop for a new laptop or tablet when you need to buy a new one.
About this event
Is your computer or laptop running too slow, does it take ages to start-up, does it freeze regularly, are you running out of disk space?
These are clues that your computer is getting too old to keep up with the newer power-hungry applications and graphic-intensive websites. It might be time to start shopping for a new laptop computer. There are so many choices for computers on the market today. How do you choose, which brand, what options?
In this course, we will guide you through the process of shopping for a new Laptop & Tablet.
We will show you how to identify your computing requirements, how to read and understand the Technical Spec Sheets.
You have heard the terms: RAM, CPU, HHD, SSD. What do they mean, how to use them when configuring a new computer?
Finally, we will go online and actually configure a laptop so that you can see the process involved and arrive at a price before you actually go to the store to make the purchase.
The goal of this presentation is to help you do your research, so that when the time comes, you will be able to make your computer purchase with confidence!
Guest presenter: Frank Cosentino Before his retirement, Frank had extensive experience in the IS/IT environment. In his last position, Frank was Director of Computing Services at one of the largest consulting companies' worldwide. He is an active volunteer at helping seniors to learn Zoom and other tools to help them cope with isolation and every day life. Frank's passion is to help mature adults overcome their fear of using computers and embrace new technology and applications.
You will receive the Zoom link for the webinar in a separate email after registration. If you have any questions or comments, please send an email to us at info@seniorstechservices.ca